From the World of Misconception to the World of Loving Celebration

Lord Buddha decried the Vedas
being misused for animal slaughter
replaced the Vedas with his doctrine
of "ahimsa"--cause no harm to others
a religion that only matter exists
silent on God yet implying
no God, souls, or Spiritual Reality.
Followers learning peace
practicing compassion, kindness
withdrawing from the world
no positive activity beyond
like a child sent to their room
no eternal destination
no suffering by ceasing to exist.
Great Acharya Shankara
is Shiva under Krishna's order
multipurpose plan
deluding atheists
while bridge building
from Buddhism to Personalism.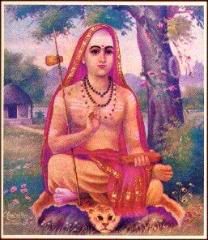 Teaching matter totally false
only "Brahman" (all pervading Spirit) real
no personal God or individuals
the goal to become "One" again
no more sense of separate self
to merge in spiritual suicide.
Then personalists Acharyas
like Shri Ramanuja, Shri Madhavacharya
uncovered the deeper perception
beyond God's impersonal effulgence
to reveal his attractive, opulent and powerful
personality as Vishnu, Rama, Krishna.
Building on all that went before
Shri Chaitanya revealed the world
as plane of misconception
all energy comes from Krishna
the world real, but covered Spirit
temporariness makes it "false"
mistaken for Substance
soul illusioned by shadow.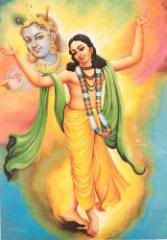 The Supreme Reality exists
beyond all (mis)conceptions
of the material world or
all-pervading Brahman (Krishna's aura)
or even all-powerful great Vishnu—
that deeply sweet, esoteric Krishna
the source of all.
His original world of sweetness
intimate loving relationships
spiritual variety with personality
this Supreme Source of all
appears as a charming youth
irresistible, all-attractive Krishna
blackish blue monsoon cloud-like
(the Vedic aesthetic color of love).
Eternal, flute playing cowherd (Govinda)
surrounded by friends and lovers
(no need of work, struggle, or smartphone)
dancing, singing, merriment
sharing the joy of life
amidst natural simple beauty.
Breath-taking landscapes
trees, plants, flowers, rivers, hills
all conscious of loving him
serving him with their life energy
singing and dancing
playing instruments in celebration
of the cynosure of all eyes, & hearts!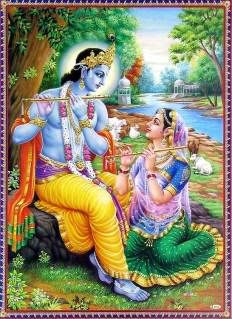 Though we can try to imagine
from scriptures descriptions
the best we can imagine
falls short millions of times--
Krishna, his world and companions
the perfect person and place
for realizing our original
most cherished desires, & aspirations.
No more false illusions of grandeur
struggling to compete or surpass,
false ego's exploitive nature is finished
now only selfless giving, sharing, loving
being fully our true self
every good quality shared
with the Love of our life
our dear-most friend
the Soul of our soul!
Now it's up to us
to want to revive our attraction
to him and his world of loving service--
chant the Hare Krishna mantra
engage in his service,
stay with those
who have standing
in that plane of love
hearing from them
naturally give up
attachments to the world of
miserable misconception.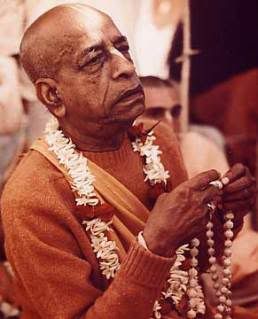 Login to post comments

2128 reads