The Quest: Beyond Appearances to the Eternal Substance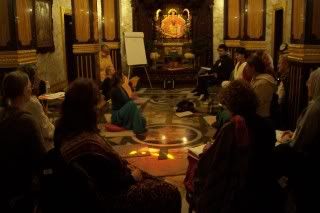 Spending hour by hour
on many days of 2 Retreats
in Prabhupada's Japa Palace
trying to go deeper
in Japa (chanting Krishna's names on beads)
the most basic, yet profound
revealing spiritual practice--
going beyond "normal"
prescribed minimum
though official rounds
now to increase the quality
through lessons, techniques, prayer
building on 16 to 64 or more
by intention & effort
a special sacred space created
internally & externally
by a spiritual community
of like-minded chanters.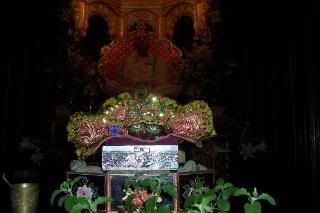 Sitting in front
of Shrila Prabhupada
with four Shilas
Haridas Thakur & Tulasidevi
in beautifully ornate opulent room
30 kinds of cut marble
stunning French antique chandelier
powerful stunning columns support
Krishna lila dipictions
while our gurus, teachers
Chaitanya & his associates
fill the marble walls w/ spiritual presence
the fitting wrappings
for Prabhupada's altar--
the main gift for everyone.


Somber mood
amidst splendor
the inner sanctuary
& temple room dark
meant to awaken
the internal Light
to reveal another dimension
begging the question: "Why?"
such magnification & rich decor
what inspired such labor
obviously done w/love & reverence
while today they keep working
to restore, repair & improve
happy to give a tour
speaking of their teachers
life & worldwide activities
to make ancient wisdom
relevant to modern times
and here in West Virgina--
of all places!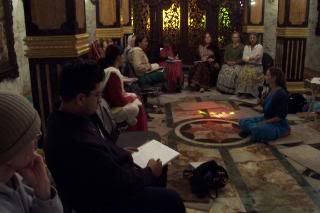 Amidst natural stones
gold, paintings & sculptures
combined with intense devotion
making inspiring, pleasing combinations
encircled w/aesthetic flower gardens
such an impressive building and grounds
provide a fitting environment
to enthrone a sacred endeavor
to rekindle our spiritual life
from sparks to blazing fire
to burn our physical illusions
centered around the false ego
to realize the value of
the holy name
remembering why we
have come to this path
such an understanding emerging
from the fire like
a purified priceless jewel
out of the ashes
of ignorance & misery.
Let us leave behind
the struggle against
the insurmountable
natural laws of death
which mightily
promise happiness
delivering in time
only the ax
to cut down
our vain hopes
on the false tree
of permanence
revealing behind the
massive edifice
only dust, bones
& burnt remnants
of dreams hoped for
& if achieved
are dashed on
the rocks at the
shore of samsara
(repeated birth and death).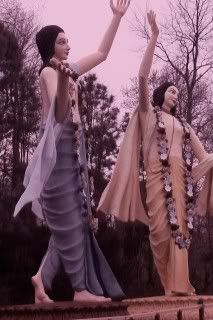 Only the soul
its relationship to Krishna
& the process for reviving it--
devotional service--
are lasting, natural & blissful
bhakti is our eternal occupation
the means & the goal
are the same:
selfless loving service
at the beginning or perfection
the only difference is
our motivations & purity
so we have come here
to practice our real
eternal nature of life
long forgotten
now awakening
by chanting Hare Krishna
praying and remembering
his activities
& helping each other
by encouragement
shared intentions & practices.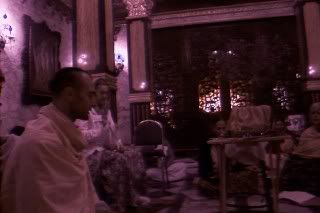 Endeavoring to do our part
praying for mercy
to go up the next rung
on the ladder of bhakti
until we can take
the leap of faith
going airborne
from material supports
to the loving arms of Krishna
by the grace of our Gurus,
Shri Shri Gaura-Nitai
we will all obtain
our soul's most cherished
goal of eternal loving service
to Shri Shri Radha & Krishna--
only time is separating us!
Login to post comments

2126 reads