What is Education--Learning Information, or Knowledge of the Self?
The theme of "what is education" is a frequent topic in the writings of Prabhupada since the Vedas also pose this question in many places in order to point our intelligence to the soul and God. In this blog we hear this question posed by Sanatan Goswami in his prayers to Shri Chaitanya. He gives his opinion about true knowledge which brings satisfaction to the self. From the spiritual perspective it is essential to know who we are beyond the physical, especially in the materialistic time we live in when people only conceive of themselves as a body or mind. These are designations such: young, old, fat, thin, beautiful, handsome, plain, ugly, deformed, educated, illiterate, intelligent, dumb, white, black, American, Indian, Chinese, English, South African, Christian, Hindu, Jew, Muslim, Arab, and unlimited varieties pertaining to our "dress" or physical body and its extensions such as our wife, husband, children and relatives. We are supposed to live in the "information age" though today's information is not necessarily essential knowledge [information overload], and certainly isn't wisdom which can be referred to as "realized knowledge". In a broad sense knowledge means to know matter and spirit and the controller of both.
To demonstrate the insufficiency of worldly knowledge, one of the principle disciples of Lord Chaitanya, Sanatana Goswami, when he first surrendered to him, asked the question which is the tittle of this blog: "What is Education?" Coming from Sanatana this question is striking. Why? Because he was a highly learned scholar in a number of languages such as Sanskrit and Persian. In fact Shri Chaitanya was apparently surprised by this inquiry, since he knew Sanatana was very learned. Sanatana replied in a famous series of verses which would be helpful for us all to know and think about. They includes his famous question "ke ami" or "who am I".
Being pleased with Sanatana Goswami's true renounced attitude Lord Chaitanya blessed him thus [Chaitanya Charitamrita Madhya 20.95–96]:
"Being pleased with Sanatana Gosvami, Sri Caitanya Mahaprabhu bestowed His causeless mercy upon him. By the Lord's mercy, Sanatana Gosvami received the spiritual strength to inquire from Him." [Even to make intelligent inquiries we require blessings from great devotees]
After Lord Chaitanya instructed him all about Krishna, his opulences, potencies, varieties of relationships we can have with him, and all about devotional service, Sanatana displayed a great ornament of pure devotees, spiritual humility.[Madhya 20.98-103]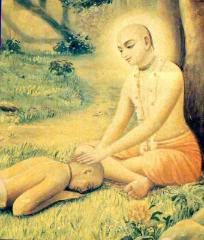 "Putting a straw in his mouth and bowing down, Sanatana Gosvami clasped the lotus feet of Sri Chaitanya Mahaprabhu and humbly spoke as follows. Sanatana Gosvami said, 'I was born in a low family, and my associates are all low-class men. I myself am fallen and am the lowest of men. Indeed, I have passed my whole life fallen in the well of sinful materialism. I do not know what is beneficial for me or what is detrimental. Nonetheless, in ordinary dealings people consider me a learned scholar, and I am also thinking of myself as such. Out of Your causeless mercy, You have delivered me from the materialistic path. Now, by the same causeless mercy, please tell me what my duty is. [ke ami] Who am I? Why do the threefold miseries always give me trouble? If I do not know this, how can I be benefited? Actually I do not know how to inquire about the goal of life and the process for obtaining it. Being merciful upon me, please explain all these truths.' "
His inquiry from Lord Chaitanya and his humility and assessment of the value of his worldly knowledge--and even imperfect spiritual knowledge--is supremely instructive for all of us. Though we can't imitate his level of realized humility we can aspire to make spiritual advancement where such an attitude will naturally develop. Many people pride themselves in modern achievements of science and technology, yet they fail to understand the most basic knowledge of what they are--truly, spiritually. From another perspective, modern knowledge, science and technology can be used if they serve the interest of the soul, but not otherwise. Material "knowledge" or information seen from the spiritual perspective have no value if they lead us into darkness or ignorance of the soul and God.


Now we come back to this essential question of what is education, and what is the most important knowledge. Real education is knowledge of the eternal soul--who we are, what the material world is, why is there suffering and death—and who is God, and what our relationship him, or Krishna is. If that is in place then we can truly "live in the world", while knowing we are not, in an ultimate sense, "of the world".
The Padma Purana describes that there are 8,400,000 total species of life. Out of these only 400,000 are human, and of these only a few are considered civilized. The definition of "civilized" will differ depending on one's belief about the purpose of life. If the purpose of life is to realize our self, our relationship to God, and how to put this into practice, then real civilization fosters this knowledge and practice. From this definition there are practically no civilized countries today—partially, though not completely.
Looking to the Gita to summarize this blog, please consider a few of these verses:
"Out of many thousands among men, one may endeavor for perfection, and of those who have achieved perfection, hardly one knows Me in truth." [BG 7-3]
Sometime Prabhupada would say out of many millions of persons, since spiritual inquiry is so very rare today. Achieving initial perfection means to realize our self as spirit, or the soul beyond the body, and then even higher to understand that we are part of the Supreme Lord and meant to serve his supreme interest--our real self interest. Knowing we are not the body is only the beginning. Then we have to actually "act" on the principle of the soul. This stage is spoken of in this Gita and Bhagavatam verse:
"One who is thus transcendentally situated at once realizes the Supreme Brahman and becomes fully joyful. He never laments or desires to have anything. He is equally disposed toward every living entity. In that state he attains pure devotional service unto Me." [Bg 18.54]
"Always engaging in the activities of devotional service, devotees feel ever-increasingly fresh and new in all their activities. The all-knower, the Supersoul within the heart of the devotee, makes everything increasingly fresh. This is known as the Brahman position by the advocates of the Absolute Truth. In such a liberated stage [brahma-bhuta], one is never bewildered. Nor does one lament or become unnecessarily jubilant. This is due to the brahma-bhuta situation." [SB 4.30.20]
And finally the verse in the Gita [9-2]—Prabhupada's talk on which was the inspiration this writing—which talks about the king of education [raja vidya]:
"This knowledge is the king of education, the most secret of all secrets. It is the purest knowledge, and because it gives direct perception of the self by realization, it is the perfection of religion. It is everlasting, and it is joyfully performed."
So let us become civilized human beings by knowing the purpose of life, and finding the king of all knowledge. By this special, confidential knowledge we will not only come to realize the truth of our self, but we will become fully joyful by engaging in our eternal "occupation" or sanatana dharma. This means loving devotional service [bhakti] to our dear most friend, the love of our soul, Shri Krishna. He is the all attractive, irresistible supreme person, the source of everything, who we are part of. We will finally come home, to the homeland of the heart, the kingdom of God, Vrindavana. When we have understood Krishna at last, by his grace, we will be considered to know everything and be truly educated:
"Whoever knows Me as the Supreme Personality of Godhead, without doubting, is the knower of everything. He therefore engages himself in full devotional service to Me, O son of Bharata." BG 15.19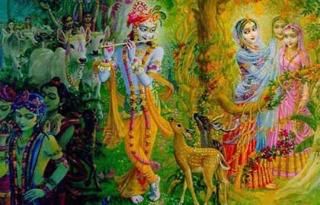 Login to post comments

2525 reads