The Power of Grace in Our Meeting our Guru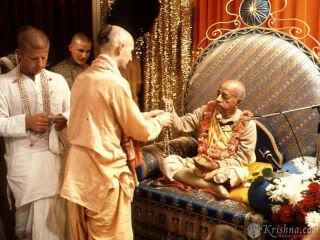 When the student is ready
the guru is sent to help
by the grace of Shri Krishna
our spiritual life revived.
Wandering by karma
throughout the vast Universe
sometimes a great demigod
down to a lowly bug.
Out of thousands and millions
of lost souls transversing bodies
one is especially blessed
to receive the seed of Bhakti.
Then life after life
spiritual progress made
until one loves Krishna completely
having no need for the world.
Everything begins by a saint's blessing
sometimes unknowingly given
then good company kept
one's nature and interest changed.
Like a cold iron rod
placed in roaring fire
gradually heating to red-hot
non-different from fire.
That fire continues to blaze
consuming all fuel
until all karma finished
one offers one's entire self.
How long the process takes
depends on how urgent our necessity
whether one detours by offences
to coldness, or the fire kept burning.
This fire kept alive
by offenceless hearing and chanting
the holy name and scriptures
humbly serving guru and Krishna.
Both grace and effort required
we endeavor our best
yet we humbly acknowledge
mercy always the background.
Our spiritual life began by grace
then sustained our spiritual practice
the ability to stay the course
finally we return to Krishna by grace.