The Power of a Smile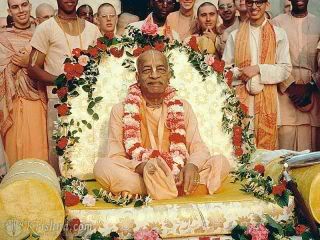 When I am at work or "out and about" shopping or going somewhere, I often reflect about what I am giving out--the energy I have within myself, and what, as a result, I am sharing with others--consciously or unconsciously. This is a kind of frequent "reality check" I try to remember to do, because I am very aware that my mental state will affect others--and my health as well. In addition, my spiritual development and my well-wishing to people will positively effect them--or my materialist, negative outlook will also influence those I encounter.
I mentioned in an old blog about near death experiences, and how whatever we give to others we will be on the receiving end in our life review at death. Even though many of us have heard of the "life review" since Vedic and Buddhist scriptures speak about it--and in modern times many have read someone's near-death account--many people don't apply it in everyday life. The fact that we will have to experience personally whatever love, hate, kindness, violence, etc. that we give to others brings us new and practical meaning to the age old idea that we should "do unto others what you would have them do to you", or just "don't cause harm".
Although I can't always share deep spiritual insights with people--or any living thing--I can do my best to be courteous, considerate, kind, and find something to appreciate about someone. Ideally I want to be conscious of my state of mind--am I happy, sad, down or up, etc. I know that I have a choice of my mental state. A famous American president--Abraham Lincoln--made many insightful statements, one of them we can reflect on for this blog: "People are about as happy as they make up their minds to be." I realize that this sounds simple, yet if we practice, it can be!


Especially as aspiring devotees of Krishna, we have much to celebrate in discovering the wonder and excellence of the Bhakti path and all-attractive Krishna and Radha. In addition, with spiritual progress we will come to the spiritual platform which puts our body, mind, and relationships with others in perspective. Even theoretical understanding that we are not the body but eternal souls who are part of God, is very helpful in not being so affected by worldly sorrow or reverses. As a popular saying teaches us: "Pain is inevitable, suffering optional." Pain happens naturally, but our attachment to the body and certain material outcomes brings about our suffering, which is more of a mental preoccupation.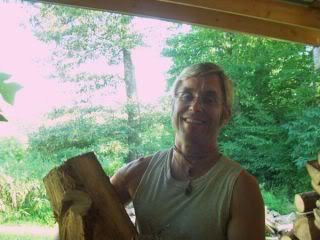 So let us be positive, present in the moment, thoughtful, grateful for our many blessings, and in a spiritual frame of mind, and let us put that into our interactions with people we meet--and do that with a smile. I am amazed at how a simple thing like a smile is a universal way of being helpful. Most people smile back, and some are quite surprised, though happy to be on the receiving end of this gesture. It is like a simple blessing, and gift to someone, saying "I am happy to see you." And wearing a smile or frown, makes us feel that way as well.
Although we may think the worldly saying to "put on a happy face" is just material sentiment, and not practical for those who should be "serious" about their spiritual life, there is actually merit in this practice. Although there is a time for grieving, sorrow, or lamenting our fallen condition, our general state of mind can be joyful and happy. After-all, this is our nature as souls: sat, chit, ananda, or eternal, full of knowledge, and full of bliss. Yes, we are not there yet, but if we apply Krishna conscious principles to our life, and try to live in the mode or quality of goodness (sattva-guna) as described in the Bhagavad-gita, the result is that we will become happy. Rupa Goswami--one of our great teachers and disciples of Shri Chaitanya--has recommended that we accept all happiness that comes in relationship to our spiritual practice. This means we should become happy!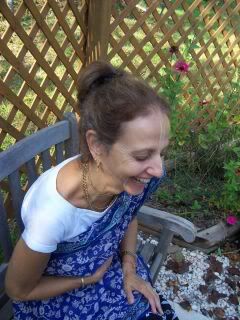 From another perspective we can also practice being happy--and sharing that with others with our sincere smile and encouragement. Although we may not feel that now--as I mentioned it is our real nature as souls. No one likes being around a depressed or overly sad person, so being happy as a devotee of Krishna is part of our duty to Krishna, others and ourself. And if you are happy and positive, you will generally have friends, and will be picked for a job over another sour or sad person, even if more qualified.
We often come to Krishna in a very sad, or depressed state from our bitter experience being in the material world--a negative impetus for bhakti--yet it is expected that by being conscious of the fully ecstatic, wonderful Krishna, we will also become like him and those who are serving him.
Begin where you are. Real spiritual compassion includes what might be thought of as material compassion for the body. The sixth chapter of the Gita teaches us that an advanced yogi or devotee feels sorry to see the suffering of others due to his or her own experience. If you can teach knowledge of the soul and God, which is the ultimate remedy for the soul's material, ignorant plight of suffering, do it! But if you can only give someone a smile, encouragement, and a prayer, do that! If you can do both, all the better!
So chant the holy name of Krishna, and practice the art of being happy--even though you may be saddened by something at times--at your own misfortune or shortcomings, at others suffering, or some temporary reverse. Study what real happiness is, and as you do put on a happy face as your gift to yourself, others, devotees of Krishna, people in general and the Lord of your heart. Practice giving to others. Live for a bigger cause then just yourself. Your happiness will be a by-product of this--of being Krishna conscious and doing your best to help others in whatever way you can. Smile, you are on "Krishna's karmic candid camera". Remember that what you give out to others and to life you will receive in kind.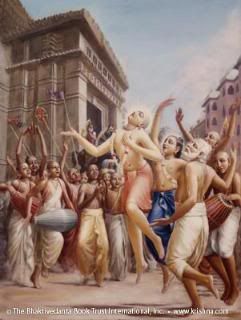 Login to post comments

1694 reads