Reflections in the Woodshed

I
Wondering in the woodshed
scratching my head
a roof with 4 air sides
mostly dry wood mixed
with sprinkled melting snow.
Meditating on experience
wondering how to convey it
meaningfully—does it matter?—
well, it does to me
otherwise, why write?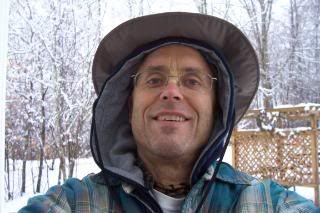 In a perfect world
my desire to express
sharing who I am
and aspire to be,
will match your necessity .
Even if few read
I pray my effort's noble
aspiring to be "bhakta"
offering my life to Krishna
detached from results.
My winter life includes
frequent woodpile visits
these days my only contact
with the "raw" earth
being home everyday.


Not the "wilderness"
by any means—yet compared
to the city, some might label it so:
our home on four acres
similar devotee neighbors.
II
Interesting times of snow
last week a foot
this morning 6 inches
now rain/mixed wet stuff
grateful for boots and warmth.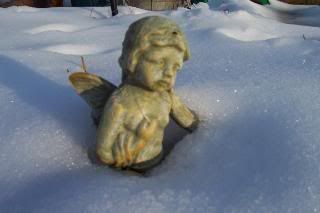 I'm telling you this
to share my joy of simplicity
sitting on damp wood listening
to a cacophony symphony
with no rush or place to go.
Melting snow crashes down
raindrops crackle on plastic
the roof or from gutters
my face chilled, refreshed—
"Life 101" for peace.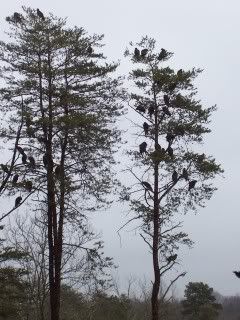 Huge buzzards have a home
in our trees—sometimes over 100
though today few glide overhead
despite freezing rain
unmoved by such weather.
With all high tech gadgets
can they compare to this?
and then add thoughts of Krishna's
display of energy and power—I smile
a life of goodness, simplicity.
O, the irony, of my writing
lowly, juvenile, inadequate
its first birth on the Net
enabling criticism of technology
while I'm dependent on it!


If we really have some experience
of Krishna in our lives
then truly "It's all good"
even calamities benefit
with potential for service.
Imperfect it certainly is
but we are, by Guru's grace
engaging in bhakti-yoga
removing lifetimes of ignorance
divinely reorienting ourself.
III
Are the mist drops
a problem for the page?—
do I just move over
happy with another stanza?—
do we change or adapt?
The world's full of invented
"wheels" we can easily use
to accomplish our necessities
to live a balanced, peaceful life
focused on the soul's interest.


We give to our families,
ourself and to devotees,
to Temples and work
trying to always offer them
to the Lord of our heart.
Give this one life to Krishna
its really very short
use your desires for him
develop a serving ego
share this path w/others.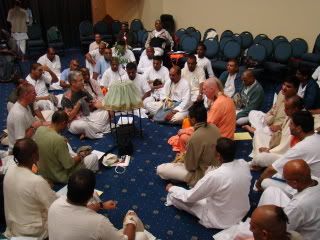 Its all a matter of consciousness
our faith and intentions
looking for Krishna's hand
using ours to serve him—
thinking, "What can I give?"
Do what you have to
yet figure out a way
to connect it to Krishna—
be kind, listen, share your heart
chant his name, read his word.
Be peaceful, satisfied
yet not complacent
keep good company
stretch yourself spiritually
fixed on the Prema goal.
Everyone's life is important
depending on its utilization
material purposes of relative value
since we are souls, part of God
realizing this truth is lasting benefit.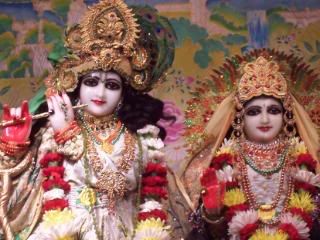 Login to post comments

1528 reads