In Adversity, finding Spiritual Shelter!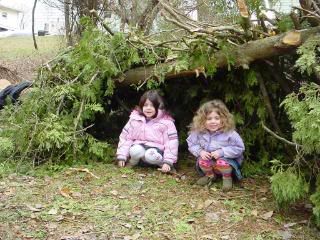 After those last major winter storms, and with all the devastating earthquakes I thought about the topic of shelter (which for different reasons is on the mind of many people in dire economic conditions)--though I will be talking about the eternal spiritual shelter. Being indoors we appear protected from the "elements" or the extremes in the environment. Although it appears on the surface that most people in the world have adequate shelter, out of 2.2 billion children in the world, 1 billion are in poverty. There is also a large population who although technically having shelter, can be easily uprooted by severe weather.
Those of us who have always or usually had strong shelters to live in, often take them for granted. We call them homes or houses—the word "shelter" sounds primal or something for homeless or poor people to exist in. Sometimes the terminology we use to describe things covers their real utility or function, whether positive of negative. Living in a house just seems to many people to be the way life is, like a right. Thus when people are displaced by hurricanes, tornadoes, earthquakes, foreclosure due to job loss, or some other unavoidable calamity, they are extremely affected by shock: "How could this be happening to me?"


Much of our ego or material identity is invested in the building or shack we live in. In the West there is a saying, "A man's house is his castle." This means to me that we are king or queen at least in the small world of our home. When we are forced to vacate our home, whether by it being repossessed, destroyed, or damaged, where is one's solid shelter to be found? And what is truly important? Reverses or calamities in life often force us to be introspective and ask essential question about meaning.
In a similar way to one's external residence, one's body is apparently a shelter or residence inside of the home or whatever environment we are in. When we are injured, sick, affected by severe disease or old age our self-concept is challenged. In youth especially we take our health, strength, agility, intelligence and memory for granted. We often "push the envelop" of our endurance with various overindulgences whose negative affect is often not experienced until much later in life. When some centenarians are interviewed they often comment that if they had know they were going to live so long, they would have taken much better care of themselves. Easy to say, though not likely!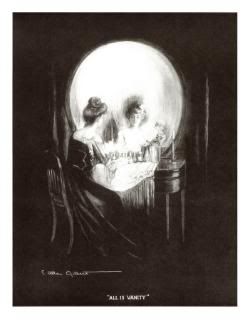 The Vedic scriptures seek to enlighten us about the shortcomings—the total inadequacies—of material sources of shelter. They point us to the proper utility of our body and possessions in providing a peaceful circumstance for understanding and uncovering our spiritual shelter: within the universe is our planet, within the planet is our country, within our country is our home, within our home is our body, within our body is our soul or self, and within our soul is the Supreme Soul or God, who sustains and nourishes the Universe and everything in it.
Some Western or materialistic readers of these scriptures consider them negative or life denying due to their harsh analysis of the limitations and miseries of matter. For those people whose shelter is in the world, whether through home, spouse, children, family, career, and bodily capacities etc, hearing about their frailties seems discouraging and overly negative. However, this stark, harsh, pointed examination of the temporary, troublesome nature of physical reality is meant to serve as a "negative impetus" for the positive, substantial, eternal spiritual shelter of the transcendental reality of God, or Lord Shri Krishna.


For those of who are attached to matter, this world seems very solid and substantial, and although temporary, it is all they know—it just needs to be gravely accepted and not worried about. Interestingly modern Quantum physics considers the world mainly open space and hardly solid at all, challenging many normal assumptions about material reality. Sometimes we have to be brought to our knees by the obvious withdrawal of all sources of material shelter before we raise our vision to search for an alternative and lasting shelter beyond our normal material purview. The fact is that everyone will be faced with the removal of their material shelter at some point, as everyone must face death alone.
Therefore, it is advised for intelligent and thoughtful people to study books such as Shri Bhagavad-gita and Shrimad Bhagavatam to see the material world from the perspective of spiritual truth, and discover the lasting shelter of the spiritual reality. In order to do this one has to have or develop a spiritual orientation.
How is this done?
In Gaudiya Vaishnavism which teaches the science of Bhakti-yoga, spiritual practice or sadhana is meant to purify our material conceptions (allowing the soul to wake up from its sleep of a false material identity) and give us a higher taste from the spiritual shelter. Another way of speaking about sadhana is that it is about purifying the heart, or awakening the spiritual heart, preparing it so that love of Krishna or prema will manifest there. Of the nine processes of bhakti, two are given prominence. Hearing and chanting about the activities, qualities, forms and especially the names of God or Krishna are strongly recommended.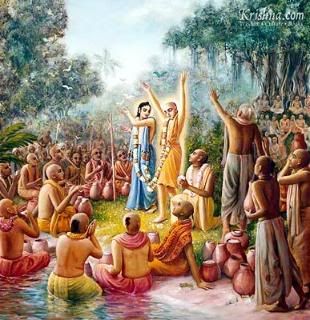 We are advised by Lord Shri Krishna in so many places in the Bhagavad-gita and other bhakti scriptures to take exclusive shelter of him. In the famous Gita verse considered to contain the book's conclusion, we are urged strongly to "Give up all material forms of shelter or material religious activities and take exclusive refuge in Krishna alone." Life as guided by the Vedic eye is meant to help us reach this conclusion. We are not independently strong, intelligent, beautiful, or whatever our material conception of our bodily identity is. Our true position— if we can be receptive to hear it—is that we are totally dependent on Krishna, or God for every facility of body or mind. These faculties and our possessions are given and sustained through Krishna's energies. Every soul is actually a servant or cooperator with the Supreme God. That is our nature, though in the world we think just the opposite due to our conditioning.
The struggle in material existence means trying to deny our subordination to God, and counteract the laws of nature in the form of disease, old age and death. In spiritual ignorance it seems that our very existence is threatened by non-existence. As a result the people of the world are busy erecting material shelters in a vain attempt to overcome the previously mentioned laws of Nature. This is why Krishna says that for the non-believers he is cruel all-devouring death, which takes away all material forms of shelter.
Although certainly we physically require clothes, homes, families, occupation and so forth even if we are spiritual people, we need to cultivate throughout our lifetime our absolute dependence on God. Materially we are defined according to our attachments, or where we put our faith. This is crucial to understand. At the time of death we will take our next birth in a plane which corresponds to our attachments and faith, taking into consideration our pious and impious activities (our good and bad stock of karma).


If someone put a gun to your head and told you that you have a minute to live, what would you think of? Where would your shelter be? And could you fearlessly, confidently, joyfully embrace it? The fact is, we all have a gun to our head. It is just that we don't know when it will go off—when death will come. Our guru Shrila Prabhupada encouraged us to life our life with the miseries of physical existence and our inevitable death firmly in mind. Presently we live in a plane which will not endure—we are here today and gone tomorrow. Either we can ignore it, or seek a spiritual solution. When we are convinced that we are eternal and learn to trust Krishna as our substantial shelter in all circumstances, we will be fully peaceful and ready for any apparently good or bad circumstance.


Think about it again. Where is your shelter—really and honestly? Is it in your body, mind, intelligence, strength, abilities, spouse, children, family, title, social status or possessions? In the Shrimad Bhagavatam these physical shelters are called "fallible soldiers" against impending disease, old age, death, and rebirth (which are considered the real problems of life). We are encouraged there to become convinced that Radha and Krishna, or God and his pure devotees, are our real, lasting blissful shelters. By studying the Bhakti scriptures, chanting the holy name, and engaging in devotional service, we will experience that higher spiritual taste which is food for our hungry souls.
Although this blog attempts to point the way out of material illusion and suffering, you have to decide whether or not to embrace the spiritual shelter of devotional service—bhakti yoga—to Shri Krishna as revealed by Lord Chaitanya and his followers. To do this one has to be philosophical, spiritually flexible, and seek the association of saintly devotees who live the ideal of the scriptures. There is the book Bhagavatam and the person Bhagavatam who is the book by action (acharya).
We require the ideal person to demonstrate and teach the meaning of the scriptures. Otherwise we are likely to be misled by our material conditioning. In the company of such pure devotees we will imbibe their faith and be inspired that we too can become Krishna conscious. We will discover by our practical experience that Krishna and his pure devotees are the only lasting and satisfying shelter.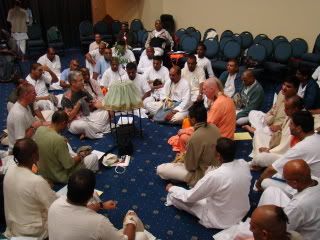 Login to post comments

2923 reads