The Importance of Trained Counselors and Mentors

This last Memorial Day weekend my wife and I attended the 2014 Sadhu Sanga Retreat, located near Boone, NC. Conveniently located only 2 hours plus 15 minutes or so from our house in North Carolina, the retreat center, situated on a high ridge, featured a panoramic view of the surrounding area in a stunning secluded setting. The Vedic style architecture of the facility felt very friendly and appropriate. All the events were held in a spectacularly spacious hall that could comfortably accommodate thousands. While the four day kirtan event was itself enticing for us to attend, we came mainly to promote our Grihastha Vision Team's [GVT's] new book, "Heart and Soul Connection", (which gives tools to improve marital and family relationships) and to invite couples to our September 12-14 couple's retreat in at Gita Nagari, Pennsylvania.
I talked to many devotees throughout the retreat, selling about 70 books. I spoke to spouses having difficulties in their marriages, and to those devotees who were trying to help couples in their communities but didn't have the training to really help counsel them. These conversations reminded me of the critical need in our devotional communities for mental health services, couples counseling, and the training of mentor couples. Temple leaders should have basic training as to when to refer devotees with mental health problems to appropriate professionals and have available trained mentors to help couples having marital difficulties.
For example, Christian ministers have training to know what is in the range of normal conduct and also behavior that indicates the need for professional help. All religious people stress their particular scriptures and religious rituals. Progressive leaders also know how to recognize unhealthy behaviors that may impede following their religion or spiritual practice. If we recognize the mental health needs of our members in addition to encouraging their spiritual practices we can better help our congregation be happy, balanced, and steady devotees.
Gaudiya Vaishnavas who are professional counselors are very few, though fortunately some devotees are entering the field, and this should be encouraged by leaders, since the need is so great. Since the supply of professional devotee therapists is limited, I also recommend alliances with spiritually minded counselors sympathetic to bhakti who can be consulted. Having more devotee therapists is a longer term goal, but of immediate concern is the training of devotee mentor couples, who, in the estimation of the Grihastha Vision Team [GVT], would be the first line of defense for devotee couples having problems, or who are seeking to improve their marriage. Additionally, such mentors can provide premarital counseling and marital skill building. Mentor training is the emphasis of this blog where I will outline the qualifications and duties of a mentor couple. I hope you will become convinced of the value of mentor couples and, if you attend a temple regularly, request your spiritual leaders to considered having trained mentor couples in your community.
A little research reveals how much marriage mentoring is being promoted by mainstream religions. The benefits which are showcased online and in books make perfect sense in today's modern world of the nuclear family with limited ties to its extended members. Many of us have heard the expression that it takes a village to raise a healthy, balanced child. The same could be said for a healthy, happy, balanced, and spiritually vibrant couple--we need good examples and martial guides.
In the GVT's new book I mentioned, one of the chapters is about challenges to lasting unions. Part of the process for promoting happy and Krishna conscious marriages and families is premarital counseling, marriage skill building education, and the natural teaching by example of experienced, mature couples, demonstrating how to live as healthy spouses, parents, and steady sadhakas (bhakti practitioners). Giving such support and education is part of the role of trained marriage mentors, or couples who have been married many years and have become stronger as a team by going through inevitable challenges, compromises, the give and take of loving relationships, and years of steady, focused spiritual practice (sadhana).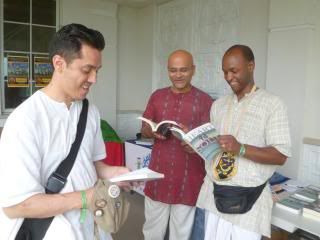 In our GVT mentor training manual written by Krsnanandini devi das, a marriage mentor couple "is a healthy, more skilled or experienced couple who empowers others (engaged, newly married or already married with a need and desire for assistance) by their example and through sharing relationship skills. A prospective marriage mentor couple has been married at least 8-10 years and is willing to share time, insight and skills with others. Qualities of a good, effective mentor couple are: patience, tolerance of others with very different views, good listening skills, resourcefulness (can point couples to other support services when needed), ability to hear confidentially and respectfully."
To give you an ideal of the value of mentor couples in your community, here is what we see as their duties (also quoted from our mentor couples training manual):
• Utilize mentoring tools such as the "Premarital Inventory 108" which provides premarital and marital assessment and support.
• Explain available resources for couples and families.
• Encourage spiritual, effective behavior by motivating and challenging mentee couples to use skilled communication and understand the spiritual responsibilities and benefits of marriage.
• Reduce anxieties of mentees by normalizing experience and guiding them to realistic expectations and perspectives.
• Help mentee couples to set realistic goals and review their progress.
• Provide periodic reviews of the issues in their mentee couples' relationship.
• Model the relationship skills they wish to impart.
• Is accessible and committed in a systematic, accountable way to their mentee couples. In the case of a premarital couple, we recommend 5 meetings before the wedding and 3 meetings during the year after the wedding. With newlywed couples and older couples already marriage, we recommend 10-12 hours of skills building training, (5—2 ½ hour sessions).
At the same time it should be understood that marriage mentor couples do not:
• Necessarily have the perfect marriage. They have healthy and satisfying marriages and get help when they require it.
• Act as mother or father.
• Automatically become buddies or pals—although they are friendly.
• Have to be on "call" for every crisis in the life of a mentee couple.
• Act as a counselor or therapist. Mentor couples develop insight to know when to refer their mentee couples to qualified professionals and other relevant resources.
We need many support services for devotee couples and families which include, in addition to our Gaudiya Vaishnava sadhana (like chanting the Hare Krishna mantra a fixed number of times), trained mentor couples and devotee therapists who are all engaged in serious spiritual practice. You might also consider attending our upcoming Couple's Retreat in Gita Nagari, PA (an hour west of Harrisburg, PA), or request your temple to host workshops lead by members of the Grihastha Vision Team. Please see our website: www.vaisnavafamilyresources.org .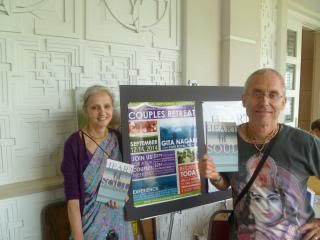 Login to post comments

3691 reads