Letting Go, and Letting Krishna--and Hanuman!
(this blog is recorded on the full page: quick time player is needed; works best with Firefox or Explorer; if you are using Google Chrome it will automatically play, so if you don't want to listen, mute your speakers.)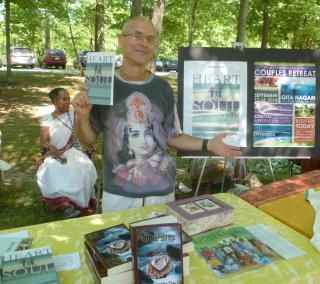 Due to a compelling feeling that I needed to go, ten days before the Gita-nagari Rathayatra, I considered traveling there to help promote the Grihastha Vision Team's new book, "Heart and Soul Connection," and our September Couple's Retreat. I don't frequently have such inspired feelings to travel, but when I do, I try my best to act on them, since important results usually come. As it turned out, no one would have been available to man the table for very long had I not gone, and while I didn't have a good spot to interface with a lot of people, I was able to talk with devotees throughout the day, sell some books, and interest a few couples in the retreat. Perhaps the biggest treat was spending time with my generous hosts and their family—Krishna serves many purposes with each endeavor!
Packing the night before, I brought the cases of books and my gear downstairs for easy loading in the morning. I am not the best organizer of time, and I ended up going to bed late, and getting up later than I had planning (cause and effect relationship, and thus my saying that "tomorrow begins the night before"). At the same time I have adopted an "expect the unexpected, yet everything always works out for the best" moto into my life and basic game plan for trips, as I am a "go with the flow" type person. This attitude helps me maintain my equilibrium and generally a peaceful disposition.
After chanting, morning worship, and eating breakfast, I set out in a joyful mood as I took in the serene country surroundings and what appeared to be a beautiful day, cooler than typical for summer. Chanting and listening to Krishna conscious nectarean talks, the time flew by and I made fair time, considering I ran into one construction delay and I needed to do a few errands. I arrived at our friend's home just before 7PM, and was greeted by friendly conversation and delicious prasadam (spiritual food offered to Krishna). I have known my hosts Jagannath Pandita das and Chintamini dasi for something like 20 years. They are incredible human beings and devotees, and also have two lovely, thoughtful daughters. This family is one of my extended devotee families, and their house, a home away from home.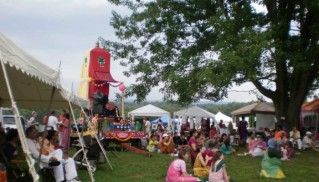 Although I wasn't really coming to attend the Rathayatra, but to man the book table, before we moved to North Carolina, we used to attend the festival every year. Krishna conscious festivals are a time to join with friends, family, and other devotees, to celebrate the basic bhakti practices of hearing and chanting the holy name, attending lectures given by sadhus, and honoring Prasad—and it is also a social event, where we catch up with friends. Never the less, in my usual way, I had no special anticipation regarding what might happen during the festivities.


Rising the next morning before 5AM, I began my life routine of morning ablutions, waking the Deities, chanting my Hare Krishna japa on well-worn tulasi beads, reading some scripture, and then worshipping my shilas (sacred stone manifestations of God) and preparing their breakfast, which I would honor afterwards. During this time the other family members rose and prepared for the day. The girls were to set up a table with clothes for sale, and the popcorn which the older daughter, Devaki, had made the night before. Gradually the house became a hub of activities. When we heard that we needed to be at the site to set up by 10:30 AM we increased our attempt at speed. I was a bit mindless as I loaded the trunk of my car, and closed it. As I went back into the house, I remembered that I had dropped my keys in the trunk, but didn't remember retrieving them. Returning to the car, I tried the passenger side door and found it was locked.
"O man," I thought with a sigh, "I have some "kar"-ma with keys at Gita-nagari!" Once I dropped my car keys on the parade route, not finding them anywhere, and no one turned them in, so we had to get a ride back home to fetch another key, and drive our other car back the next day—later someone did report finding the keys and so they were returned. Then the next year I locked them into the trunk (before the days of standard inside trunk openers). I had to take off the rear speaker and find someone with a long enough arm to reach them! After these experiences, I began carrying a spare key, but I stopped doing that since my last vehicle wouldn't allow you to lock the keys into the car. Remembering this history, my wife later told me that she was worried that I hadn't taken a spare key!
So here I was in a bind and all kind of thoughts raced through my mind. Trying to regroup and remember Krishna, I called AAA to have my door opened, and the tow truck came in 30 minutes. The driver verified my membership and driver's license number. Getting out of the truck he grabbed his door opening implement, but first tried the driver's side door, which opened. He exclaimed, "Man, I'm good," and we both laughed, but I could hardly believe it. He said, "I hope your keys are actually in the trunk," and then drove off. I popped the trunk, and searched it many times, and then inside the car, but to no avail. Now this was getting really interesting!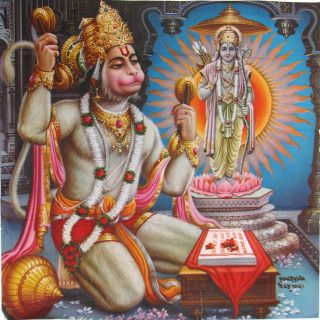 Next began a thorough search for the keys in every place we could think of, but nada. I have found that in life, everything is a process of steps, so I kept my hope up that by our looking, the keys would be found. I remembered that some devotees pray to Hanuman to help find lost items, so we all prayed to him for help. Even though I was concerned, I had remained calm (a very helpful process in life), and remained open to find the keys. My eyes happened to look between the bed-frame and the bed, and there were the keys. We all shared some joy at my finding them, and thanked Hanuman, and I also thanked my Shilas (God's devotee and God).
As I drove to the site, and throughout the day, I thought of the lessons this experience had for me, since every person and situation along with our reactions to them, can be our teacher if we remain open, and are willing to look. Just thinking we are stupid or beating ourselves up is not very productive—charity and kindness begin within. In this case, I first created a problem that didn't exist, just by my attitude--the car wasn't locked, and the keys weren't in the trunk. This was all the result of the power of negative thinking. Although I consider myself a possibility, and positive, thinker, my old habit was to assume the worst, and this experience showed me that I have still have this tendency. I became caught up in a hurried passion to pack and drive to the site, and as a result I created a "not in the moment" state, focused more on the goal then the steps to reach it, and thus I mindlessly put down my keys. Did I have an unfortunate problem, or a service opportunity?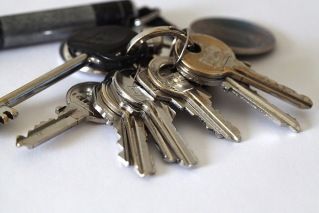 Although this situation wasn't a life or death experience, still, it points to the fact that we have to do our best to be Krishna-consciously mindful as we perform every day, seemingly mundane, actions. While the goal of being Krishna conscious, or a obtaining a particular objective are important, the details are also significant, as we can only live, or take steps to a goal, moment by moment. While we don't have to "sweat the small stuff," we still need to give it our best. So at any time we remember, we can ask ourselves: "What am I absorbed in; what am I giving to myself—and to others; and what am I learning from this?" And finally, we will also die at a particular "ordinary" moment, and our life is a preparation, moment by moment, step by step, for that time. In our next life, we don't want to have to ask, "What was I thinking?" Considering all this, let's make the most of this, and every, moment!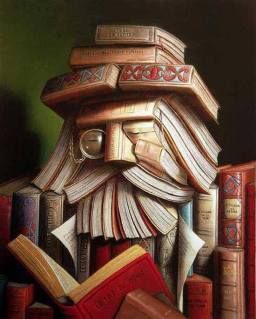 Login to post comments

3536 reads