Blogs
(this blog is recorded on the full page: quick time player needed)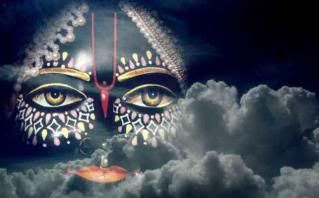 [first published on July 8th, 2012]Since "Independence Day" in the USA was is July 4th, I gave a class about the idea of real independence from a spiritual perspective. I will share some of the points I made in this and a second blog. To begin with, material "independence" is an illusion based on our forgetfulness of our spiritual nature. Since we are tiny parts of Krishna, our normal condition is to be under a superior shelter. Therefore, we can only work under the power of His energies, either consciously through bhakti (internal superior energy), or unconsciously through the modes of material nature (separated inferior energy).
Spiritual dependence is the true reality and secret for peace, happiness, and fulfillment. Real independence comes from total dependence on Krishna by seeing Him as the Supreme Source of everything in our lives and the world. Krishna is the supreme proprietor, enjoyer, and dear-most friend of all. I explain these points through six verses from the Gita with some of Prabhupada's purports and then I ran out of my allotted words, so I will give practical examples by sharing spiritual narrations from the Shrimad Bhagavatam in my next blog. I then end with some prayers from Shrila Bhaktivinoda Thakur that speak of how to practice seeing Krishna as our supreme maintainer and protector.
Login to post comments

4693 reads
(this blog is recorded on the full blog page: quick time player is needed; works best with Firefox or Explorer; if you are using Google Chrome it will automatically play, so if you don't want to listen, mute your speakers.)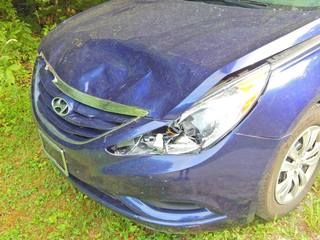 [Reposting from yesterday a fictional retelling of an event I just experienced] Thursday is shopping and errand day when I travel a radius of about 20 miles to purchase some organic vegetables, dump garbage, occasionally give away stuff at the Goodwill, and take care whatever else needs to done in nearby, exciting Sandy Ridge—like go to the bank or post office. As I was driving away from the bank, I thought that this had been a normal day for me. Rising at 4:30 AM, I began by reading some of Yamuna Devi's biography and then Shrimad Bhagavatam. As often happens, time seems to shoot by and I have to rush to take my shower and prepare to wake the Deities, and begin my japa, or personal chanting of the Hare Krishna mantra on beads.
By 6AM I was chanting. My wife joins me between 6 and 7. This morning I was happy to have almost finished my quota of "rounds" on my beads by 8 AM. At that time I begin the breakfast offering as part of my worship, and then bathe my Shilas, or sacred stone manifestations of Krishna. At slightly after 9, my wife and I honor the Lord's prasadam or the food which has been prepared for our Deity's pleasure, though according to our necessity and diet, while we get some morning sun on our deck. Then more reading, finishing my chanting, emails, making a few posts, and it is time to leave for my outing. Today I had to leave earlier than usual since the store I buy the organic produce at was closing early.
On the open road the sun was brightly shining with those beautiful, white puffy clouds, gently moving across the sky that inspire me so much. Another typical hot summer day. I was thinking about the fact that while I pray to be free from my anarthas or unwanted mentalities or attachments, sometimes my mind would like to have them. We have so many parts of our conditioned identity. While ideally we remain in our best or core self in the mood of goodness, sometimes our parts take a primary voice and role in our life and we may do, or at least think about doing, what isn't helpful for our spiritual progress, even degrading.
As I was lamenting this fact in myself, I heard a loud thud, and saw a deer to my right that was obviously the cause of the sound, being hit by my car.
Login to post comments

3174 reads
Login to post comments

3547 reads
(this blog is recorded on the full blog page: quick time player is needed; works best with Firefox or Explorer; if you are using Google Chrome it will automatically play, so if you don't want to listen, mute your speakers.)


Part 1
Devotee: "Hey! Haribol! How are you? I noticed that you haven't written any new blogs on Krishna.com in quite a while. What have you been up to?"
Karnamrita: "I am good, thanks. Krishna is very kind! For the last two months I have taken a full time job, so I have been recycling, or reposting, my older blogs, which don't usually don't get read."
D: Really, I thought you were retired?"
K: "I wouldn't consider myself "retired" or tired, but it's true that I haven't worked a regular job in many years. My focus has been on my spiritual practices and writing. However, my new "job" over the last two months has been preparing our house for selling. In other words I have been repairing, painting, cleaning, getting rid of stuff, organizing or straightening what we have kept, making our house spiritually neutral, and doing a great deal of landscaping and gardening. While the lion's share of the work is done thanks to my hiring a devotee neighbor, there are still many small actions that I continue to complete on a daily basis."
D: "Organizing and getting rid of things. Hmmmm…that is really difficult for me. What was that like for you?"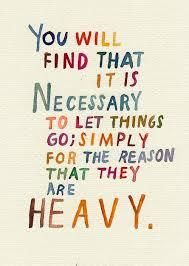 K: "You are a person like me in this regard. Listen, when we first began taking down our devotional pictures and deciding which ones to keep or give away, along with filling up bags of unnecessary accumulated stuff— to either give to charity or throw away—I actually felt like I was dying.
Devotee: "How so? Sounds intense!"
Karnamrita: "It was very intense, and it revealed much about me, and the spiritual work I have left to do!
Login to post comments

3061 reads
(this blog is recorded on the full page: quick time player needed)


[Republished from November 11, 2012]
Two weeks have passed since my last blog. During this time, I have reflected on the illusive, uncontrollable (though we try to use it) nature of time, of which life, as we known it, is inextricably intertwined. Hopefully we will be drawn to question the force of natural laws on us, and think of their purpose, and controller—the Law Maker. We have our individual life's timing for significant or insignificant events—sometimes lethargy or stagnation—and then the larger field of our immediate surroundings, our country, and the whole planet, all of which can influence our decisions and how we go about things. We may feel like we are in a stagnant pool, going nowhere fast, or being diminished daily, while at other times we seem to be swept away by events much larger than ourselves or our family concerns. For Gaudiya Vaishnavas, the chaos that may surround and seem to threaten us, points to the lasting spiritual peace within, and the love of the soul for Krishna which enlivens us. Thus the blessing of upheaval or problems can be a motivation for spiritual practice. Life in the material world is always uncertain and changing, like unstable shifting sand, and still we try to avoid, or find shelter from this truth. Firm ground is the soul and its relationship to God.
Login to post comments

2443 reads
Login to post comments

1847 reads
Login to post comments

1615 reads
Login to post comments

1505 reads