Blogs
(this blog is recorded on the full page: quick time player needed; works best with Firefox)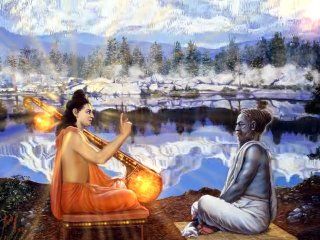 One of the principle ways we make spiritual progress in unalloyed devotion (uttama bhakti) is by saintly association, or sadhu-sanga. We are advised in the Vedic scriptures to not just see a saint, but to hear from them. In a general sense we tend to become like persons we spend time with, and specifically if we associate with saints, we can be affected by their faith, taste, and spiritual standing, according to our receptivity and the condition of our spiritual heart. This means that to actually benefit from the company of a sadhu, or sadhvi, we are required to carefully listen to their realizations with faith, and thus appreciate them beyond external appearances, or without our ordinary worldly judgment of attraction or repulsion based on the desirability or undesirability of the body, or personality. We may, by conditioning, upbringing, or religious bias, think a saint must appear or speak in a certain way, or be a particular age, gender, race, ethnicity, religion, sect, or any numbers of what are actually material conceptions, rather than the primary quality of purity and spiritual standing.
Another way of saying this is that we may construct, even unconsciously, a particular external criterion, or lens, for recognizing a saint which has the undesirable effect of excluding persons who don't fit what may be a rigid conception from ecclesiastical edicts, or bad or limited experience. Human beings seemed wired to simplify things through labels, like creating an internal file cabinet with so many folders. Thus we create one folder for saint, and other for non-saint. Then we don't have to think about those in the non-saint box, since we believe they are a known quantity with so many reasons not to listen to them.
According to Shrila Rupa Goswami in his UpadeshAmrita text 6, a pure devotee may have a "body born in a low family, a body with a bad complexion, a deformed body, or a diseased or infirm body," or, we may infer, have mental quirks or personality eccentricities. He compares such a pure devotee to the Ganges River, which during the rainy season may contain bubbles, foam and mud, and yet is still considered pure.
Dallas Morning News,
Dallas Morning News,
(this blog is recorded on the full page: quick time player needed; works best with Firefox)

Krishna is Flower Bearing Spring
an easy time for reflection
encouraged by saintly company
both are heart opening
by accepting the spiritual goal—
not officially, but determinedly—
the world changes toward us
everyone becomes our teacher
no situation is unfavorable
informed by scriptural study
taught by spiritual adepts
keeping us fixed in practice
regardless of our work.
Hands & knees on the moist Earth
biological grounding created
attuned to country living
It's a difficult fragrance to describe.
Breathing is difficult as he gets closer, due to the gag reflex when the body senses something toxic.
It is 'rutting' season for goats.
Buckwheat is the dominant male of Mathura's herd.
To make himself attractive to the ladies he is urinating all over himself.
The smell is overpowering and I am grateful for the fence that keeps us apart.
He will either breed or fight with any animal that comes his way.
There is one thing on his mind.
If you won't provide that, you're competition and must be driven out. There is no middle ground.
When I was a kid we had a recording of children singing, " Let the sun shine in, face it with a grin, open up your heart and let the sun shine in."
"Sunshine is nice", I thought, "But if I open my heart, isn't that dangerous? Just a little cut and I need a band-aid. Cutting my heart open to let sunshine in will certainly kill me."
The song always bothered me because I thought it might be something I have to do when I grow up.
It sounded messy and painful, but all these kids were singing with happy voices. Something didn't seem right.
There is a saying, "A friend is one who hears you sing your song, then sings it back to you when memory fails." There are times when we become lost to ourselves, and at such times we're so glad if a dear friend reminds us who we really are, what our natural qualities are, and so on. They do this by their love.
I have to say that, in spite of their ability to confront us with opportunities to waste unlimited time, computers & the Internet also have made wonderful things possible. I was just looking up one thing, which led to another, and somehow I found links that, with a single click, took me to articles I've read and enjoyed in the past, and to this, which I don't recall, but just read, and found fascinating. If you have the time, I highly recommend: http://backtogodhead.in/the-adam-bomb-by-ravindra-svarupa-dasa/
Dallas Morning News,