Blogs
Dallas Morning News,
(this blog is recorded on the full page: quick time player needed; works best with Firefox or Explorer)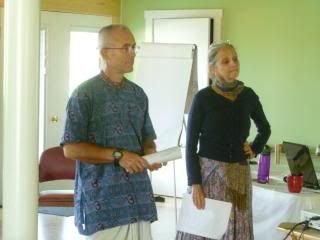 My wife and I are traveling to the devotee farm community, Gita Nagari, near Port Royal, PA this Thursday to assist other members of the Grihastha Vision Team facilitate a couples' retreat this weekend (June 7-9). In preparing for our part of the retreat, I'm naturally thinking of what makes a successful marriage and relationship. What might be some helpful tips, like sutras or codes, seeds to plant, that will ideally give rise to reflections on how to grow, nurture, and implement them? In many people's experience, solutions to life's varied problems are often simple to explain, but more difficult to carry out. However, where there is a will, there is a way, combined with prayer and a good support system.
Before I explain them in a little detail, let's cut to the chase, by listing all four tips:
Tip 1: Be committed to personal growth work and the introspection it fosters in order to become the best person you can. Work on letting go of those parts of your conditioning that are unfavorable for having happy, healthy, and meaningful relationships. In short, "Know thyself," or your strengths and weaknesses, and strive to improve for everyone's benefit.
(this blog is recorded on the full page: quick time player needed; works best with Firefox or Explorer)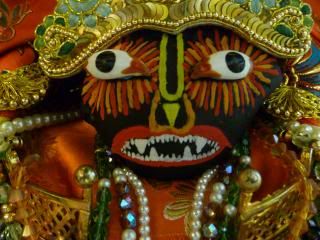 Shri Nrisimhadeva's appearance is one of my favorite holy days. His lila is so illuminating and important. Though I wanted to prepare this offering by the actual day, it wasn't meant to be--occurrences and other duties diverted me--and yet, that is also part of the teaching: to see everything in relationship to God and to keep a humble service mood throughout. Whether pulling weeds and planting, or having one's car battery die--everything is instructive. In this case, reminding me to keep my devotional creeper free of "weeds", and that I must recharge my batteries with spiritual practice. May the fire of spiritual life burn brightly in our hearts and souls!
Unusual life events
intersect with special days
strange creatures prepare us
emerging from the ground
shedding their skins to fly
teaching us to transform
if we want to dwell in the sky
realizing our true self
keeping our purpose in mind
always vibrating the primal sound
the great chant for deliverance
17 year cicada's ballad serenades
Lord Nrisimhadeva's appearance.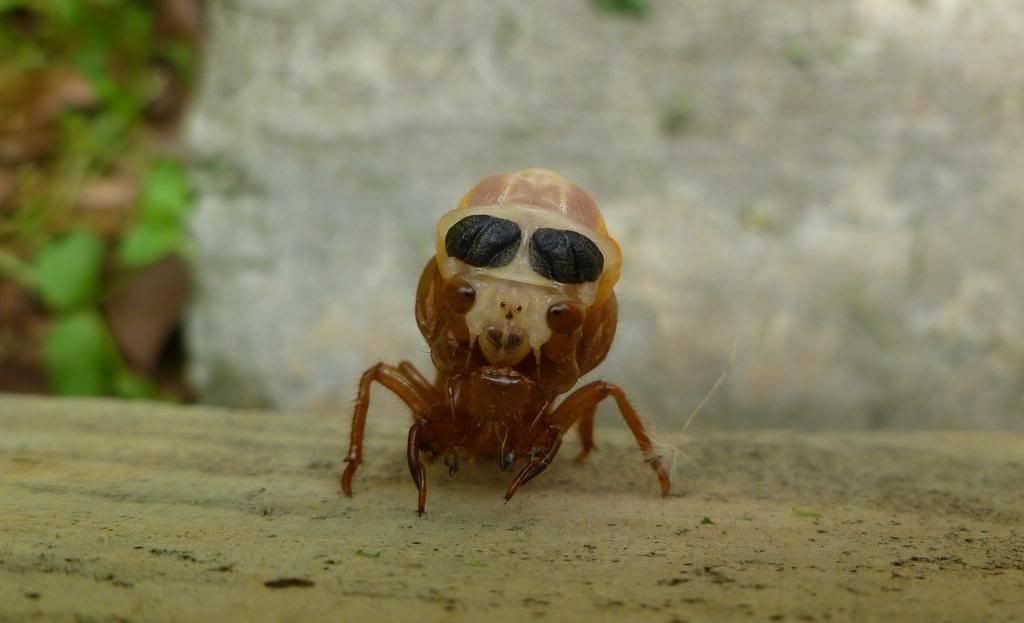 Eerie sounds like alien starships
reminding us of the extraordinary
half man, half lion incarnation
SB 07.09.18 Sacinandana Swami
Sum: Prahlada expresses his deep faith in the chanting the holy names of the Lord.
Two minds sets for the this festival.
1. Let me see what is happening.
2. Or How can use the days to the best of my abilities how can I go deeper.
As a neutral observer or an active participant.
Dhanudhara Swami - 10 sentences about Sadhu Sanga
Nityananda Prabhu - liberate the 3 worlds, ABCDE,
Gaura Sakti - anarthas dissolving,
Mother Chandravali - amazing, I thought I had to go to India.
Braja Mandala Priya - only shelter, holy name,
Giriraj Swami
Memorial Day weekend there is a Prabhupada Festival in Los Angeles.
"I hope you can change your plans." – Indradyumna Swami
Prabhupada's Sanskrit editor, Pradyumna Prabhu said a Striking statement.
Śrīla Prabhupāda took the same principles. That most acharyas take it for personal advancement to the advancement of the world.
Last Saturday I went with friends to Daytona Beach to take part in the Ratha-yatra festival; throughout the spring and summer months there are several such festivals that take place in Florida. I'd taken my car and a few ladies rode with me. One of my passengers had a pack of stickers to pass out (with a Bhagavad-gita verse on them) and she shared them with me. That gave me a way to interact with the passersby in a low-key way; I could simply give them the sticker, read the verse with them (or in some cases, they read it to me) and then invite them to our free feast, right there on the beach.
Very often, the only link an inmate has with the outside world is his correspondence with the IPM devotees. Some are fortunate enough to have supportive family or friends, but most are not. I am realizing more and more how important the relationship the inmates develop with their devotee pen pal(s) is for them.
A friend sent me a link to an intriguing article, "How Religions Change Their Mind," (click here for the full article: http://www.bbc.co.uk/news/magazine-22250412). On reading it, I mulled over the concept of remaining true to the essence of a teaching, while making it relevant for the current audience. The original inaugurator of the Hare Krishna movement was Sri Caitanya Mahaprabhu, who upset the caste brahmanas of His time by going straight to the essence of the Vedic teachings and giving love of God as the prime goal of life.