Blogs
Walk the path of Bhakti with Bhaktimarga Swami or travel on an adventure with the famous chef Kurma Prabhu.
Learn how to make beautiful deity jewelry for your Gaura Nitai deities at home or find out what is the best recorder for recording beautiful bhajans from KrishnaGeeks.
Login to post comments

1348 reads
A funny thing about Andra Pradesh and other states in South India, they have this saying. "We do not know what Krishna looks like. If someone thinks of Krishna the face that they see is that of NTR, Nandamuri Taraka Rama Rao."
Login to post comments

3841 reads

Seeing Krishna is the perfection of the eyes
the soul is never satiated drinking that beauty
eyelids blinking seem like a calamity hiding him
as each moment is ever fresh, like our first, best love.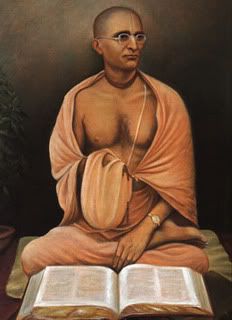 As aspiring devotees of Krishna it is essential that we have a philosophical attitude toward life, rather then only religious sentiments. Prabhupada's (my guru's) sannyas name--Bhaktivedanta Swami--teaches us that we have to have a philosophical understanding--Vedanta--as well as devotion--Bhakti. He taught us an important idea originally coined by Rabindranath Tagore: "Religion without philosophy is sentiment, or sometimes fanaticism, while philosophy without religion is mental speculation."
Login to post comments

1304 reads
Is the time that I takes to read the entire Bhagavad-gītā As It Is

with Sanskrit verses, English verses and Srila Prabhupada's Purports.
Login to post comments

1404 reads
People like happy endings in stories, books or movies. Some would say this is "human nature" but really the body is a reflection of the soul, and the soul is by nature happy. Since we identify ourselves as the body, our conditioned reasoning only suggests the body and mind and its extensions as objects of enjoyment. Unfortunately physical manipulation and stimulation does nothing for the souls needs.
Login to post comments

1461 reads
My wife and I share many things. Sometimes we share sickness, and today we are both "under the weather" with some type of flu or the like. I rose after my usual sleep quota of 7 hours to put wood on the fire and take some ginger root and lozenges for my throat, but went back to bed. After that we got up late to chant (mantra meditation or prayers).
I can't say I practice this statement completely, though I appreciate the sentiment and contemplate the meaning. It is the attitude of the topmost devotee who sees everyone engaged in Krishna's service except themselves. Though I can't imitate this consciousness, remembering this statement helps me endeavor to see the good qualities in others. It is a good affirmative statement to honor people we meet or devotees we may know, and reflect that the shortcomings we may perceive in others, we may have as well--some in abundance!
There are literally unlimited topics to write on for devotees. This is especially true for those of us who see the world through a writers mind--the whole world and everything and everyone may be grist for the mill of our pen, guided as we are by the Bhakti scriptures and pure devotees.We might imagine how many books there would be if as much attention were given to the Gita, Shirmad Bhagavatam or the Chaitanya Charitamrita as has been given to the Bible.