Blogs
(this blog is recorded on the full page: quick time player is needed; works best with Firefox or Explorer; if you are using Google Chrome it will automatically play, so to not listen, mute your speakers.)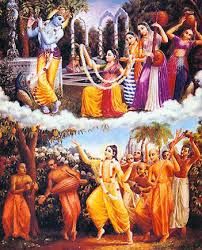 There are many ways to know a person. One can know a person by guessing what they might, or should, be like, study the person from a distance—say from the Gossip column, Internet, or Facebook— hear about them from others who may, or may not, know them, or we may directly experience the person through a loving personal relationship. The last way is the best because if we love a person we will discover, and they will reveal to us, all their secrets. It is similar with Krishna. Even though he is both infinite and inconceivable he has the prerogative to reveal himself to those who love him purely and selflessly. In regard to Krishna, and specifically Shri Chaitanya, there is both an exoteric (apparent) as well as an esoteric (hidden) reason for his appearance.
The closer we come to Krishna the more we will know about him, by his grace. And there are many ways to explain the necessity of the Lord's various forms and energies. For example, great devotees have looked very carefully at Krishna, and discovered another person, Radha, or devotion personified, who is most dear to Krishna. There is Krishna, and his energies, all of which come from Radha. And looking even more closely at the Divine Couple, pure devotees have found that Radha and Krishna have combined together to become one, in the person of Shri Chaitanya. Such pure souls, such as the Six Goswami's of Vrindavan, Shri Krishnadas Kaviraja, and others, have shared their experience with us in their writings, and given us the logic of their love, referenced by the Vedic scriptures.
If we study the lila, divine activities, of Radha and Krishna as revealed in the Shrimad Bhagavatam and Chaitanya Charitamrita commented on our Gaudiya Vaishnava acharyas including Shrila Prabhupada, we will understand that there must be a Lord Chaitanya to fulfill Krishna's unmet need. Krishna is perfect, complete, and full in himself, so when he wants to experience something, he manifests a situation and spiritual body accordingly.
(this blog is recorded on the full page: quick time player is needed; works best with Firefox or Explorer; if you are using Google Chrome it will automatically play, so to not listen, mute your speakers.)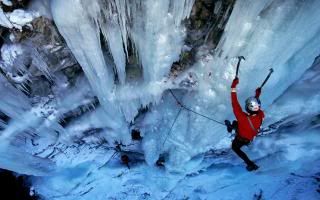 Amidst thoughts about my past in my Fatal Attractions series (still in process) and how it relates to my present, I have thought, and felt, deeply about relationships I have had, and endeavored for. In response to my contemplation I wrote this free verse poem. It is full of angst and intense emotion for my failed relationships, disappointments in good ones, and my hopes and aspirations. While most of us value relationships highly, they are also the source of our greatest distress and sadness. Everyone wants to be loved and understood, but it is never quite to the degree we want. Even in what seem the best of relationships we may be separated from our beloved through death, debilitating disease, divorce, or mental imbalances, as in dementia.
Examining the depth of my capacity to love, I question who in this world can we love and understand that is capable of fully accepting our heart's gifts? At least in my experience, no one can completely satisfy either our desire to love, or to be loved in return. This could be depressing or could point to our goal of loving and serving Radha-Krishna with our spiritual heart and soul. The negative impetus for such love and service is our bitter experience, or at least disappointments, in worldly relationships, while the positive impetus comes from our taste in spiritual practices and eventually our pure love for Krishna, or prema. All relationships with others and our dealings with the things of this world are meant to point us in the direction of Krishna, as the source of everything, and the complete object of our love. Our desire for unending and ever-increasing love can only be fulfilled by the One who can accept our love unlimitedly, and that is Krishna, the fountainhead of all relationships (rasas), the cynosure of our eyes, heart, and soul.
I
I'm a disabled person
climbing a mountain:
my words are my hammer,
feelings are my spikes, and rope,
I know not if they'll hold or help me up,
in giving me a grip on my steady journey
to avoid be hurled down by trolls;
I only have my effort and a prayer
with the aspiration to reach the top
where I find the entrance to your self-universe:
Dallas Morning News,
(this blog is recorded on the full page: quick time player is needed; works best with Firefox or Explorer; if you are using Google Chrome it will automatically play, so to not listen, mute your speakers.)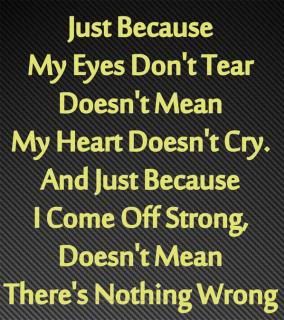 Just because something is
doesn't mean it should be.
Just because a poem is written
doesn't mean it's good.
Just because I have a manuscript
doesn't mean it should be published.
Just because I don't like a universal law
doesn't mean it isn't good, or I can break it.
Just because I own something
doesn't mean I should keep it.
Just because it's a cool techno gadget
doesn't mean I need to buy it.
Just because I want to be humble
doesn't mean I don't need appreciation.
(this blog is recorded on the full page: quick time player is needed; works best with Firefox or Explorer; if you are using Google Chrome it will automatically play, so to not listen, mute your speakers.)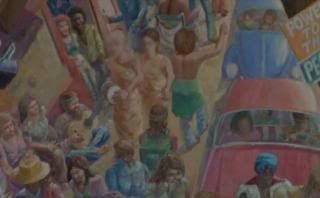 Chris had come back from Muir Woods to Berkeley a few times to restock his food supplies and then return, but this time he felt he would stay in town for a while. He wanted to begin searching the library and alternative newspapers for information about different spiritual orders and groups such as the Trappist monks, Buddhists, and various yoga societies. Somehow to have a new life, a spiritual life, and one by which he could focus on useful life skills, being in harmony with Nature, and helping others.
In his second year of college he wasn't impressed or inspired by his teachers. He reasoned that if he continued his education he would become like they who were merely part of the materialistic status quo. His teachers didn't seem interested in changing, becoming better people, or most importantly, in their own souls. Chris felt completely estranged from his old life, apparently lost, even damaged from an external perspective, and yet he felt somehow guided in the process of finding his path. It had been a radical, unpredictable journey and there no end in sight, but his effort to find and live the Truth was worth it, even if his material progress was impeded or lost forever. Without realizing and living the purpose of life, what was the use of any other obtainment, even if praised by the World?
He simplified his life by giving away most of his possessions, and began sleeping on the floor. During the day he would sit on his folded sleeping bag before a small coffee table that he used as a desk. It was covered with stacks of spiritual/religious books, magazines, and notebooks. He dreamed of being a sage or monk, what the I Ching referred to as a "superior man," not in vanity, but in depth of character. Chris had become a vegetarian rather naturally,
Dallas Morning News,
Dallas Morning News,
Last Wednesday we celebrated our anniversary of The Darshan Room
this blog is recorded on the full page: quick time player is needed; works best with Firefox or Explorer; if you are using Google Chrome it will automatically play, so to not listen, mute your speakers.)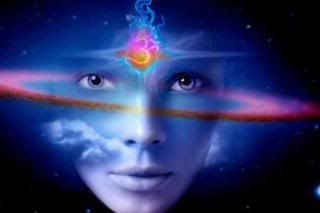 Growing up in San Francisco, Chris didn't think it unusual or sad if the sky was overcast or foggy—it was just a different color sky, though he liked the sun too. In fact, in a general sense, even at the young age of four he began a lifelong pattern of not look forward to things, or thinking of too much about the past. Though he was learning to shut his emotions down as much as possible, in a strange way he lived in the present, at least his version of it, safe in his castle of neutrality, yet ever on guard so he could remain at peace, and not angry (like his father). He learned that if someone is angry that will mean pain, so he treaded life very gently. When his family moved from L.A. to San Francisco in 1954, he didn't feel much different in his new neighborhood in the Sunset district than he had in his previous house in Van Nuys, especially after making friends—but at first he didn't like the hills. When a neighbor began making skate coasters for the kids, the hills became an asset for fun.
In their flat on 9th Avenue, these were care free years for Chris, at least on the surface. He had a best friend, Michael Rivers who lived next door, and they played all day, coming home for lunch, and sometimes playing Monopoly. They were loosely under the watch of Michael's mom, since Chris's parents were at work, and sometimes there was a baby sitter, but in those times kids were just let out to their own devices without supervision. As they grew older they enjoyed roaming the neighborhood, finding homes under construction to play in, climbing the tree on the corner, or exploring the hill that steeply dropped down from 8th Avenue to the fast and busy street far below. Sometimes on the weekends they would walk over to Sutro forest and climb to the top with Chris's dad.
Interestingly, from today's perspective, in his youth Chris didn't learn to make any distinction between the city composed of concrete, asphalt, cars, and houses, with the natural environment he encountered in his back yard, in vacant lots, or at Sutro forest. He hadn't yet spent time in country settings which were at least partially undisturbed and full of trees, bushes and wildlife. Although later he and his friends spent time in Golden Gate Park, and had family vacations in scenic resort areas, he still didn't understand that where a city now stood was once a scenic, natural habitat, free from human intervention and "progress." To Chris, human beings seemed to be the center around which everything else revolved, while Nature and its laws were but an afterthought, or only of secondary importance to cities and their inhabitants. It was only when he was in his existential crisis at 18 that Chris really appreciated the natural world. He discovered a Nature that wasn't secondary to human beings. Instead, humans were only a part of Nature. The natural world, the planet, and the Universe, were the basis of all life, having to be properly respected and cooperated with.
(this blog is recorded on the full page: quick time player is needed; works best with Firefox or Explorer; if you are using Google Chrome it will automatically play, so to not listen, mute your speakers.)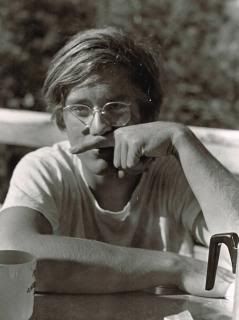 An unusual cold, rainy day in Berkeley, California, but for a particular person, it was a fitting, useful, backdrop for an epiphany, or deep "aha moment." Chris Cox, in a contemplative mood that was becoming almost normal, was sitting on the floor in his minimally furnished room. A single light bulb hung down from the ceiling by a cord speckled with white paint from an ancient paint job. Warming himself in front of the gas heater, he would occasionally look around the room or out the window at the gray day, as if looking for special meaning, or some clue about what was missing from his life. In fact he felt like he, himself, was an existential question waiting to be answered, and for the first time in his life.
Chris had lost his job and was getting food stamps. His hippie house was on "rent strike," having banded together with other renters to withhold paying rent until the "pig landlords" lowered the cost, so he hadn't paid his rent in months. Still, the electricity and water were on, and he had food and shelter. How was this possible that he could live here with no effort? He could just sit here and live, having time to read religious and mystical texts and think about the purpose of life. It all seemed magical, yet purposeful.
He didn't know it yet, but he was experiencing how simple living can foster deep thought about life. As it turned out, this was a rare time when life conspired to make certain results more likely by arranging the environment like a perfect supporting cast.