Blogs
(this blog is recorded on the full page: quick time player is needed; works best with Firefox or Explorer; if you are using Google Chrome it will automatically play, so if you don't want to listen, mute your speakers.)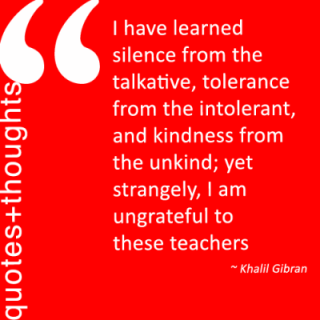 While the experience that prompted this free verse poem wasn't planned, it was welcome, and seen as an occasion for reflection. Association with saints is desirable for developing good qualities, and yet being with people in general can also foster our personal and spiritual growth, because in their company who we are as a person is revealed and we may discover part of the spiritual work we have left to do. Anyone can be our teacher if we have the humility to be open to learn, either how to act, or how not to act.
Every day we have the opportunity to learn from life situations, which include dealing with or observing others, whether at work, running errands, attending school or college, or interacting with our family and friends. While it is essential to learn about others, in relationship to them we will learn much about ourselves since people are mirrors in which we project our ideals or see our faults. From another angle of vision, Shri Chaitanya Mahaprabhu also considers our heart a mirror. This mirror is covered by the dust of our conventional (physical) ego and material conditioning which obscures our spiritual nature (soul). In all our dealings we can pray to remember that we are all souls having a physical experience and in this way part of the same spiritual family.
When we have made the decision to give our life to the pursuit of loving and serving Krishna, our life is forever changed. This is true in spite of our inability to walk the path in the most ideal way. To help us have a humble attitude we can remember our life before we began the spiritual quest, or that we all begin life in ignorance. We should know and remember the spiritual goal, and where we are on the map of our spiritual journey, in order to adapt the path to our unique life situation. This is why practical guidance from experienced, mature teachers can be so valuable. Personally, I continually return to my spiritual roots to deal with the ups and downs of life. I do my best to be spiritually fixed, but if I am unable to, I still feel a hand helping me up if I extend mine up to accept assistance. I am on the path for the long haul and know I need help to stay the course.
"He who thinks that the living entity is the slayer or that he is slain does not understand. One who is in knowledge knows that the self slays not nor is slain."  [Bg. 2.19]

"For the soul there is neither birth nor death at any time. He has not come into being, does not come into being, and will not come into being. He is unborn, eternal, ever-existing and primeval. He is not slain when the body is slain."  [Bg. 2.20]
Dallas Morning News,
Each week we will post a question to a panel of about two dozen clergy, laity and theologians, all of whom are based in Texas or are from Texas. They will chime in with their responses to the question of the week.
(this blog is recorded on the full page: quick time player is needed; works best with Firefox or Explorer; if you are using Google Chrome it will automatically play, so if you don't want to listen, mute your speakers.)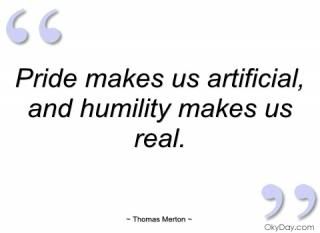 We continue exploring what could be called the "glory of humility" in this blog with an emphasis that pride precedes a fall. I find much to celebrate about someone who is modest in their attitude, yet competent, and—or—hardworking and sincere. Such a person shines in whatever they do, whether as a great leader, or street sweeper. Even though you won't find humility or modesty listed on the qualities desired for a job applicant, this quality has always been appreciated, and even more so today since modesty seems extremely rare—even quaint, or archaic to some.
Part of humility is also being authentic and honest in our life—or in our conditioned identity, work, and family, etc., neither vainly proud, nor full of self-loathing. Being authentic means being a balanced human being with a good understanding of one's nature and a feeling of dependence on God. Unfortunately with the decline of good families and spiritual values many children are raised with glaring deficiencies and poor attitudes that as adults they try to over compensate for. I speak from experience.
With television, magazines, and frenzied social media all hungry for sensational stories, coupled with a busy population awash in (mis)information and infinite entertainment distractions, a "sound bite culture" has been created without much depth, but with much money invested in promoting it. Fame, though still rare, may be easily conferred on someone for insignificant reasons, and is often pursued for its own sake, rather than given, unsought, as an acknowledgement for special skills or good qualities.
On the other hand, persons who do have the advantages of beauty, wealth, social position, or acting or athletic ability, can be full of pride, conceit, boasting, or unwarranted audaciousness. Those in the limelight have special responsibilities because, as the Gita teaches us
Hare Krishna Giriraj Swami
Please accept my humble obeisances
All glories to Śrīla Prabhupāda
Yesterday I mentioned my doubt about the eko bahu syam verse.  My understanding is that this verse is in relation to the material world. In the following purport to CC Adi 6.14-15 it seems to hint at that, although the verse is not directly quoted. 
Dallas Morning News,
(this blog is recorded on the full page: quick time player is needed; works best with Firefox or Explorer; if you are using Google Chrome it will automatically play, so if you don't want to listen, mute your speakers.)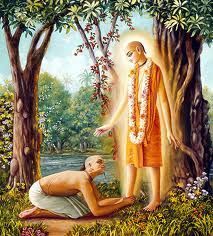 I had the good fortune Sunday to spend time with a devotee friend and neighbor, along with her two visiting daughters—one out of college and looking for work, the other, soon to finish high school and already accepted at a college of her choice. I love to share my experiences and what I have found is valuable with others—anyone who is interested to hear and discuss—but especially to devotee young adults and teens. In my life growing up, and later as a devotee, I suffered for want of wise elder guidance, and basically had to wing it by trail and err.
Though my life has worked out well in many ways, I feel I could have had more skills to help others and be further along spiritually had I had help. Admittedly, we all have our personal journey and ways we are given to learn our own lessons (even with guidance) through personal experience and trying various endeavors. Never the less, I know that having supportive, kind, and experienced mentors can make one's path more fruitful, one's decisions better informed—if one is willing to listen. Remembering my own lack of guidance I feel inspired to share what I have learned in life, both my mistakes and successes. This is one reason I write, and in this case, enjoyed speaking to our guests.
I found the young ladies to be very open-hearted and humble. This caused me to think about the importance of humility on our lives. I have written a fair bit about this, as has my wife, but today I am looking at humility as a means of being open and grateful, and how there is real, and shadow humility. I shared with my two young friends that my behavior as a young devotee appeared to many to be humble, or unassuming, and I was willing to do almost anything. However, as I learned in my thirties, my so-called "humble" attitude was more a result of being beaten down by agents of the material energy as well as feeling bad about myself than arising from any spiritual understanding.
At around 11:08 last night His Grace Ayudhya Prabhu and Nirguna Rupa looked everywhere for the statue and concluded that it must have been stolen.  An anonymous donor had paid the high price of $16,108 for the inconceivable statue and records have shown that the statue was duly shipped.
(This is where the statue was going to be installed – Picture by channel 12 news)
Because you are My very dear friend, I am speaking to you My supreme instruction, the most confidential knowledge of all. Hear this from Me, for it is for your benefit. –  BG 18.64

Because of their tendency to hear from authorities, they also transcend the path of birth and death. – BG 13.26