Not arguing for our faults, but affirming our highest good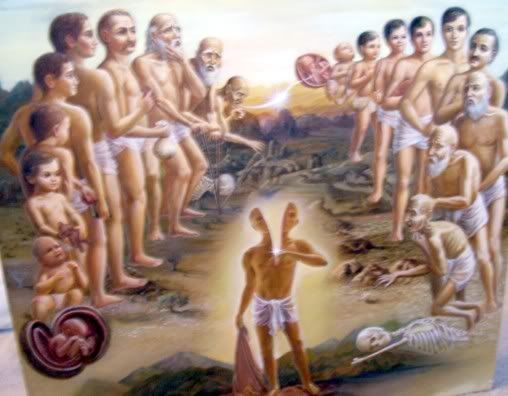 The soul's condition in the material world is pitiable, restrictive, limited. We have bought into a conception of our self that is so much less than who we are spiritually. On the one hand we need to humbly accept that we are a tiny fragment or part of God completely dependent on him for everything. On the other, compared to our spiritual heritage and nature, we are acting in such a tiny, selfish capacity according to the limitations of matter and our self limiting beliefs.
Low self esteem in psychology means to buy into a self doubting, negative conception of who we are and what we can or can't do or obtain--that we are just bad and deserve the worst. Devotees also suffer from this, and a misapplication of the KC philosophy can dress up our poor, self-limited ideas of our [material] self into external shows of humility or renunciation.
The mind is our friend or enemy, and to be successful in [bhakti] yoga we need to make it our friend. In general, that means to remember Krishna, and to think of ways to serve him and his devotees. At the same time making the mind a friend means changing our habitual negative self talk [if we have it], seeing Krishna as our maintainer and friend, and believing that we will be successful by Krishna's grace in our various endeavors in this life and beyond. We do this by hearing and chanting about Krishna and in developing a serving mentality through regular seva or service to devotees, Deities and people in general.
If we don't believe in our self or our value we may not even try to do a particular thing, or defeat ourself in advance. Real self esteem is to understand that as part of Krishna, we are by nature lovable, and valuable. We can and should read the prayers of great realized devotees, though most of us are not on that level. Aspiring to make advancement and follow in their footsteps is one thing, imitation another. Their lamentations come from pure devotion, not from material conditioning or self doubt.
As devotees we want to cultivate an attitude that by the mercy of our Gurus, the devotees and Krishna we can be successful in our attempts. At least we have to try our best and believe that the results are up to Krishna--remembering him, depending on him, with an attitude of faith in the possible, IS our success. If we feel too bad about our self [this is our material concept of ourself], then we may not accept Krishna's help even when it is right in front of our face.
Is something an opportunity or an insurmountable problem? Is the glass half empty or half full? Should we endeavor in faith, or give up in self doubt? The answer to these questions or other similar ones, depends on our spiritual attitude. Are we arguing for our faults and limitations, or affirming the nature of our soul, and the mercy of Krishna upon us?
I share with you some affirmations that a group of devotees developed in a prayer group I was part of with the hope that they may assist you in your spiritual attitude. You can try to use some of these on a regular basis or make up your own that address your core issues. For instance if we have issues with Krishna talking care of us we can affirm that: "Krishna is my well-wisher and dear-most friend, and he is always working for my highest good and helping me." For an aspiring devotee, this statement or affirmation is a fact, though we may not believe it. So we are not speaking of wishful thinking but of focusing on the best possible result, in the positive, in our true spiritual glory as Krishna's part and parcel etc. We are also expressing or affirming our spiritual aspirations for service and attainment.
Replacing our negative self talk with spiritually positive self talk is desirable, though there are different opinions on how to do this. I have given the general recommendations above and we should all use them. At the same time from my wife and my experience, by using affirmations, at the very least we will feel better, and at the best we can change our limiting, negative self talk.
With Krishna's help we can change our attitude, and how we see the world. As I said already, Krishna consciousness practices are also doing this, yet such spiritual positive affirmations or statements can help us by changing what we focus on. We are not replacing chanting Hare Krishna or other forms of devotional service, but augmenting or assisting it. The proof of the pudding [or affirmations] is in the tasting [are they helpful or not?]--but at least we can make an endeavor in order to have an opinion about it. It all depends on your need.
Some people are saying things like "I am so stupid, and can't do anything right", because this is what they heard growing up, and they have internalized it. So now, if we are aware of our negative self talk, and limiting attitudes we can develop new beliefs and attitude. Affirmations along with our spiritual practices or sadhana is one way to do this. Personally I am inspired to read these. See if you are, and if so use them as you like...as many or as few as you are attracted to. See this as an experiment.
PART ONE
MY DEAR SRILA PRABHUPADA [and your guru if you have one]! MY DEAR LORD CHAITANYA! MY DEAR LORD NITYANANDA AND THE PANCA-TATTVA! MY DEAR LORD SRI SRI RADHA-KRSNA: THANK YOU FOR ALL THE BLESSINGS YOU CONTINUALLY SHOWER UPON !!!
Radha-Krsna [or Shri Guru and Gaura-Nitai etc] are blessing everyone on our Prayer Lists!
Radha-Krsna are blessing us all to be able lo completely release and let go of everything that we need to release and let go.
Radha-Krsna are freeing us from all attachments to persons, places, things and wrong conceptions that are not part of Their plan for our lives, that are not for our highest good and are not conducive for the development of pure love for Them.
Radha-Krsna are blessing us to be able to let go easily, smoothly, lovingly and joyfully.
Radha-Krsna are blessing us to immediately accept every wonderful blessing that They want to send our way. They are blessing us to accept Their blessings and mercy in the future as well, by our being open, ready, and able to give, receive, and share our good fortune Their Divine Plan manifests fully in our lives right now!!
Radha-Krsna are blessing all of us to be able to flow through each day in a relaxed and tranquil way, fully trusting m Their Mercy, Their Kindness, and Their Love. We have only to relax and do our very best and They will do the rest.
Radha-Krsna are blessing all of us to now live a, deeply satisfying life, of the most widely useful kind. Radha-Krsna are blessing us to be able to serve Shrila Prabhupada's Mission in a way that is very useful and pleasing to him, and that gives us the fullest self-expression and deep fulfillment.
Radha-Krsna are now adjusting, harmonizing, and prospering everything in my mind, heart, activities and life that needs to be adjusted, harmonized and prospered, and in the minds, hearts, activities, and lives, of everyone that is dear to me.
The perfection of our prayers is the transformation of our material consciousness, and that of all living entities, into pure devotees of the Lord. By the combined Mercy of Sri Guru and Gauranga we are witnessing the cleansing of everyone's heart through the Power of the Holy Name!! Thus the Earth has changed into Vaikuntha and all living beings rejoice! !
Diving Mercy and Grace are manifest in our Prayer Group and in our Healing work. We rejoice in the wonderful opportunities Radha-Krsna give us to share Krishna consciousness. By being a channel for Unconditional Love and Healing, many sincere souls join us and we establish true community.
We are basking in the Presence of Radha-Krsna and are immersed in the Sweetness of Their Light and Love. Radha-Krsna are blessing us now with an ever increasingly sweet taste for Their Holy Name and Service.
PART TWO:
THE LIGHT OF RADHA-KRSNA [or SHRI GURU, GAURA-NITAI etc.], SURROUNDS, NURTURES AND PURIFIES ME.
THE LOVE OF RADHA-KRSNA ENFOLDS AND EMPOWERS ME.
THE POWER OF RADHA-KRSNA PROTECTS, STRENGTHENS, AND HEALS ME.
THE OPULENCE OF RADHA-KRSNA SUPPORTS ME ABUNDANTLY.
THE KNOWLEDGE OF RADHA-KRSNA TEACHES AND GUIDES ME.
THE EXPRESSION OF RADHA-KRSNA SPEAKS AND WRITES THROUGH ME.
THE PRESENCE OF RADHA-KRSNA WATCHES OVER ME AND LETS ME SEE.
WHEREVER I AM, RADHA-KRSNA ARE, AND ALL IS WELL, AND EVERYTHING FURTHERS MY HIGHEST GOOD.
RADHA-KRSNA'S MIRACLE WORKING POWER IS CREATING MIRACLES IN MY LIFE, WITHIN AND WITHOUT, IN ALL MY ACTIVITIES, THOUGHTS AND AFFAIRS, TRANSFORMING ME, HEALING ME. EMPOWERING ME TO BE THE PERSON I NEED TO BECOME TO FULFILL MY MISSION IN LIFE.
WITH RADHA-KRSNA'S HELP I GIVE MYSELF PERMISSION WITHIN AND WITHOUT TO BE THE PERSON I WAS BORN TO BE. MY INNER LIFE SUPPORTS MY OUTER LIFE. ALL PARTS OF ME--BODY, MIND, EMOTIONS, INTELLECT, AND SOUL--ARE IN HARMONY AND UNION TO SERVE MY HIGHEST GOOD.
I AM OPEN AND RECEPTIVE TO MY NEW AND HIGHEST GOOD!! I HAPPILY AND EASILY LET GO OF THE OLD TO MAKE WAY FOR THE NEW! WHATEVER I NEED IN ORDER TO GROW AND SERVE COMES TO ME IN THE PERFECT WAY AND PERFECT TIME.
I ACCEPT MYSELF IN MY TRUE SPIRITUAL GLORY AS AN ETERNAL SERVANT OF RADHA-KRSNA!! I MANIFEST THE LORD'S WILL IN MY LIFE AND THUS I REJOICE!! MY SERVICE IS MY SOLACE!! MY LIFE AND MY SERVICE ARE ONE!
BY RADHA-KRSNA'S GRACE I AM A RADIATING CENTER OF DIVINE LOVE, MIGHTY TO ATTRACT MY GOOD, AND TO SHARE MY GOOD WITH OTHERS, WITHOUT ATTACHMENT.
I AM DIVINELY PROTECTED AND ENERGIZED, DIVINELY GUIDED AND DIVINELY SUCCESSFUL TODAY.
I AM ALIVE AND ENTHUSIASTIC BECAUSE I AM ONE WITH RADHA-KRSNA'S PURPOSE.
ALL RESISTANCE FOR DOING GOD'S WI1L IS NOW DISSOLVED, EVAPORATED, FINISHED, GONE!
DIVINE ORDER IS NOW PRESENT IN MY LIFE AND IN MY WORLD AND I GIVE THANKS! JAI SHRI GURU AND GAURANGA-NITAI! HARI, HARI BOL!!!
Login to post comments

1443 reads