ADVENTURES IN MONKEY HEAVEN—VRINDAVAN JOURNAL, DAYS THREE, FOUR, & FIVE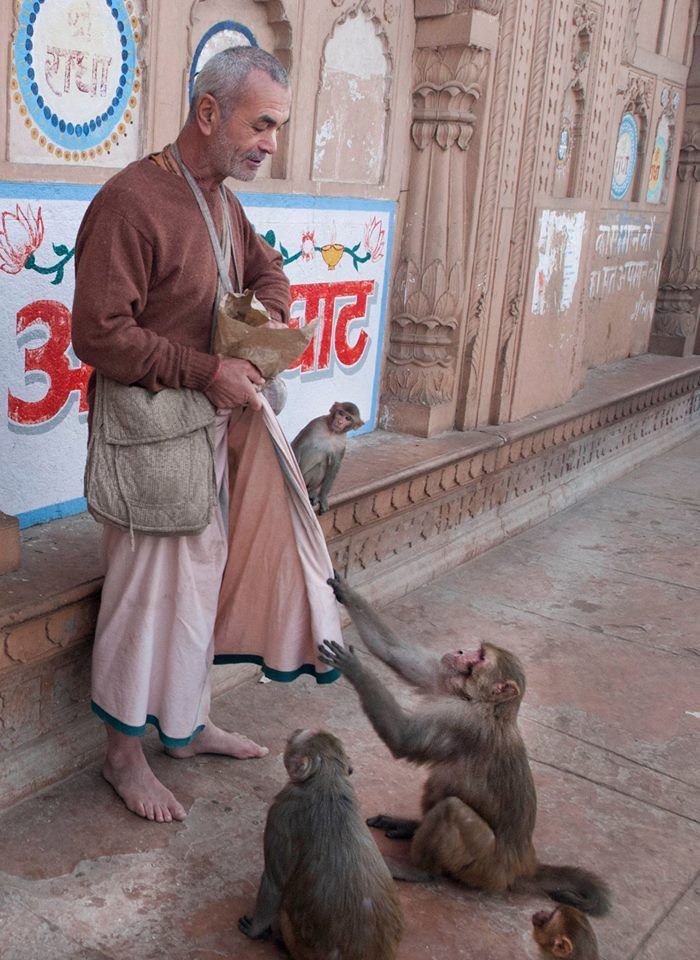 (From last month, as I am now in my sixth week living in Vrindavana, but I'm trying to set the ground work for my video blogs) Hard to believe it is already the sixth day here, but time flies wherever we are. Eventually, I am sure I will be looking more at weeks and months, though naturally each day and moment is what we live in, as the present is all there ever is. I have acclimatized to being here. No jet-lag to speak of even in the first few days. The stopover in Finland for 12 hours helped, and spending that time with gracious devotee friends, who shared delicious prasad with me. The fact that I was able to sleep on both flights was also essential. I've settled into a temporary routine of going to the temple and taking my meals at the MVT restaurant, and sometimes at the restaurant where I live, until my treatment begins when I will be cooking all my own meals.
MY ANGEL She is originally from Germany, a disciple of Kavichandra Maharaja, living in India since 2001, and married to a devotee from Jaipura. She speaks fluent Hindi, English, and of course, German, has done the Hodal treatment I am embarking on, and thus knows its ins and outs. Out of gratitude and kindness she mercifully helps other devotees doing the treatment. I would be hard pressed to imagine doing all the purchasing by myself and knowing how to take the medicines, though directions are in written form. Such a kind-hearted, humble, and giving devotee, with a fine sense of humor. A joy to be with and so helpful. I am indebted to her—certainly I can see her as an agent of Shri Radha, as are others who have helped me like Mahadevi and Kusa Matajis, Prema Prakasa and more. In fact, the whole trip has been practically flawless—and even yesterday's unexpected, startling encounter with a fury, tailed, red-butted resident of Loi Bazar, turned out much better that it could have.
MY AUSTERITIES The yogis undergo austerities, and we experience driving to Loi Bazar from near the Krishna Balaram temple. Although the other 3 lady devotees where enthusiastically chatting and laughing as if this trip was no problem and the most natural thing in the world, to me (Mr. Tough Guy—not!), going over the rough road and potholes gave me the feeling that my brain was bouncing off my scull! Bong, bong, bong! I've gotten somewhat used to the crazy roads where the drivers display expert swerving acrobatics, punctuated by sharp horn blowing (sometimes it seems just for the sake of honking) while missing collisions by inches, and when necessary, using either side of the road--whatever works seems to be the moto. It is sort of mildly organized chaos. This success of reaching one's destination seems fueled only by faith and good luck. On the wild roads its every car, rickshaw, and other type of conveyances like farm vehicles, horse, oxen, or camel driven carts for themselves; or on the street, every man, women, youth, dog, hog, cow, and monkey for themselves. Not a place to be inattentive, and I hear that at least one person dies per day in some traffic related incident!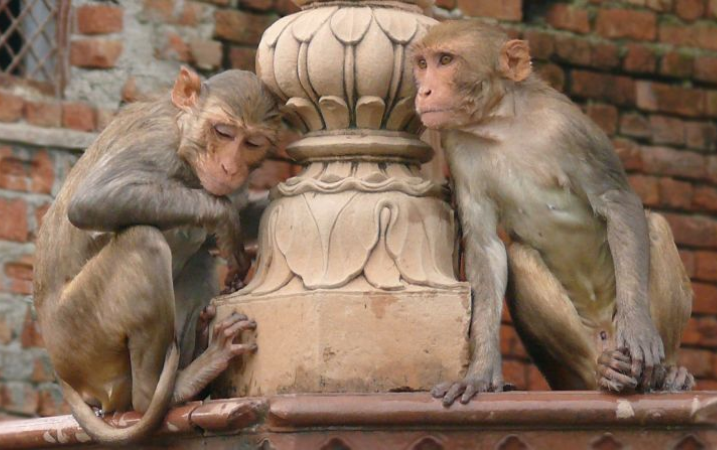 MONKEY HEAVEN Thus, after my scenic drive through quaint Vrindavana, with, near the end of my trip, the Yamuna on my left and visible holy places like the Madan Mohan temple of Sanatana Goswami on my right, we reached our destination in front of an appliance store. Before I could even think of getting out of the rickshaw, a monkey dexterously ripped my glasses off my face and out of the neck strap I thought would protect them—ha, ha—silly me. Fortunately, a local retrieved the glassed before the monkey absconded with them, but not before biting off one of the plastic ends of the glasses and breaking the hinges on one side. Another fortune is that the neck strap now holds the glassed together, so I can still use them, though they are slightly crooked, which I may be able to fix.
This was one initiation into living here! I did bring another set, but I will still keep them in reserve as these are working fine, giving me the look of one slightly crazed or who is too poor to by another pair of glasses. Apparently, this part of Vrindavan, a radius of about 2 blocks around Loi Bazar, is the worse for monkey thefts. That incident definitely got my attention, but all-in-all, it wasn't as bad as it could have been. Although I kept my glasses off till we finished shopping, I am grateful they are still wearable, and that I could see well enough to function! It did make for an interesting story, and I am here partly for a healing adventure to live, share as be part of a book that could benefit us all. We'll see about that, but really, our life is our book and our offering to God—for me, Guru and Krishna—and whether it is published or not, it should make a good "live read" and not one that puts us to sleep!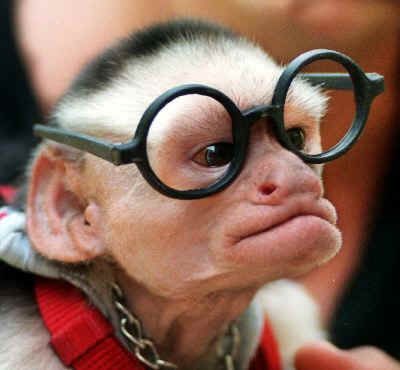 SETTING UP MY HOUSEHOLD Living here for what will likely be close to a year, means setting up a household. You can imagine leaving everything behind but a few pieces of clothes, traveling to a foreign land different than you are used to, and having to begin from scratch! I purchased two electric heaters, and two electric burners, plus 3 pots and cooking and serving utensils, a container for getting milk, containers for staples, an offering plate, bowls, and cup, a lota and bowl for bathing the Deities, and a plate, bowl and cup for me, plus spices and some items for the diet. Veggies and fruits I'll purchase when I after the initial 15 trial to see how I do with the medicines.
And in 11 months or so, I will leave whatever I have accumulated behind, comparable to when we biologically die and have to leave everything behind. I can't help but see that teaching in this situation. So many deaths and rebirths we undergo in this life! Yesterday, the day after my shopping expedition, was a mellow day, but I did get the electric receptacles in the kitchen fixed to able to handle two single electric burners, and I remembered via FB that yesterday was Arcana and my 29th wedding anniversary (neither of us are good at remembering it!), and I published a blog in celebration. And what an amazing response from the devotees! Very endearing!
PREVIEW OF THE NEXT INSTALLMENT And last, but not least, I saw the Ayurvedic doctor today (Monday)—the subject of an upcoming part of my new "Vrindavana Healing Video Blogs." It's about a long 1 hour drive and we left at 5 am by rented car. Vrajasevaki kindly accompanied me and a Russian devotee doing the treatment to act as the translator and helper. Stay tuned for the next installment of my healing adventure. From now on, I hope to post my video blogs, when I figure out how to do that here, which I have found easier and also more accessible for my audience. As of this posting, I have 10 and will do my best to post them a few a week, so we can catch up and you will receive them as I post them on FB.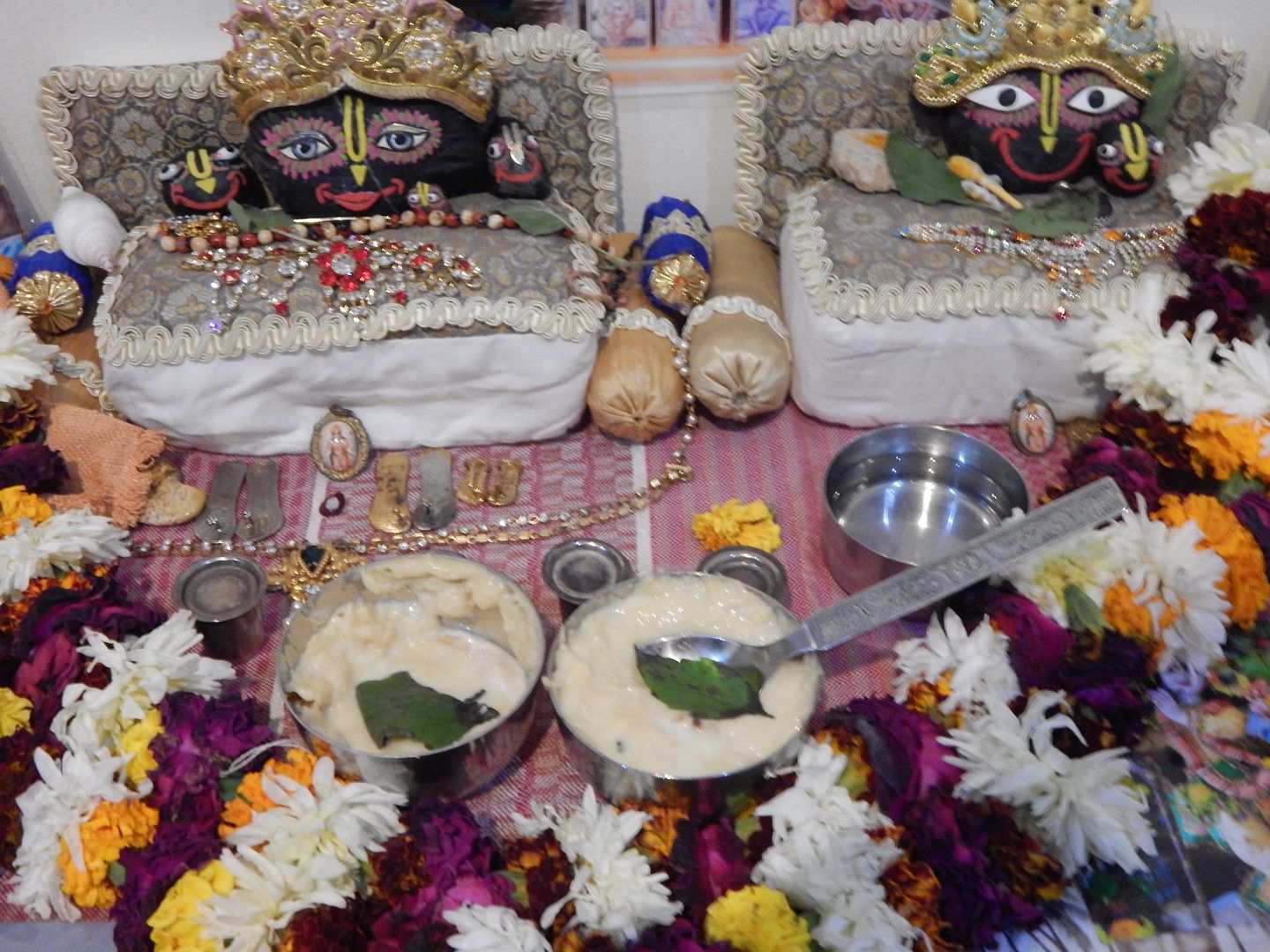 Login to post comments

2428 reads