The Six Goswamis
The Six Goswamis* were a group of scholarly and ascetic devotees of Krishna who lived and wrote in India during the late fifteenth and early sixteenth century. They were the leading disciples of Chaitanya Mahaprabhu.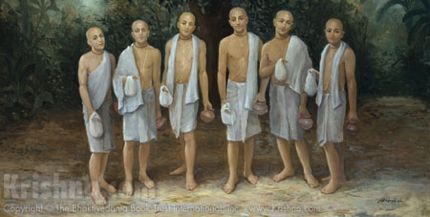 A number of the Goswamis came from aristocracy but left aside considerable wealth and influence to live as wandering mendicants, dedicating themselves to writing commentaries on the Vedas. They also uncovered many of the lost places of Krishna's pastimes in Vrindavan, and established temples there that are visited to this day. Under Chaitanya Mahaprabhu's direction, they showed that the essence of all Vedic teachings is devotional service to God, bhakti-yoga . Their work largely forms the scriptural and philosophical basis of ISKCON, popularly known as the Hare Krishna movement.
The brothers Rupa and Sanatana were formerly high-ranking ministers in the Islamic government of Bengal, India. Their nephew Jiva, is considered by some Sanskrit scholars to be the greatest philosopher of all time. Gopal Bhatta was from an aristocratic South Indian family, Raghunatha dasa's father and uncle were the wealthiest landowners in India, and Raghunatha Bhatta studied under Rupa and later established the famous Govindaji temple In Vrindavan.
*Sanskrit go = "senses," swami = "master"