Krishna's Expansions: Other Forms of God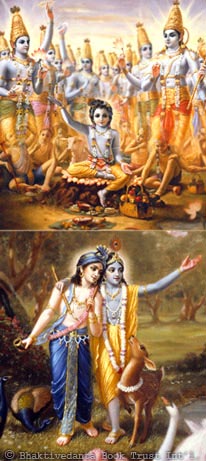 Krishna expands into innumerable forms, each of whom is Krishna Himself. Being all-powerful He can expand Himself into forms with the same power and characteristics He possesses, without diminishing Himself in the least. Krishna is likened to the original candle that lights other candles of the same luminosity.
Krishna expands Himself to enjoy in a variety of ways through relationships with His innumerable devotees. Some of His expansions manage the material world, but Krishna in His original form remains aloof from the affairs of this world, ever enjoying with His associates in His spiritual land.
Krishna's first expansion is Balarama, His elder brother in Goloka Vrindavan. From Balarama come all other expansions.
Although Krishna produces many forms identical to Himself, He remains one undivided entity.