Krishna's Names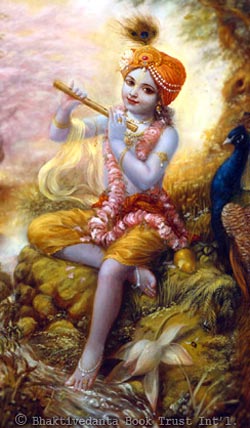 Just as we may have different names according to our various roles—Mommy, Dr. Jones, Sweetheart, Professor, Your Honor—so does God. And since God is unlimited, He has innumerable names.
The names can be generic terms, such as "God" or "the Absolute Truth."
They can be in Sanskrit, such as Govinda, Gopala, or Shyamasundara.
They can be in other languages, such as Yahweh and Allah.
The name Krishna, which means "the all-attractive One, " implies that each of us has an eternal relationship with God and we are always drawn either to Him directly or to His energies.
God and His names are identical, so by speaking them we enter His purifying company. Regularly reciting, singing, or chanting His names awakens our innate love for Him and gains us release from bondage to matter.