Opportunities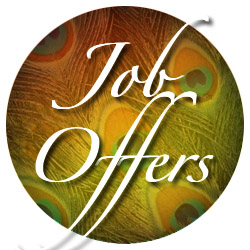 Krishna.com is a non-profit religious organization powered by volunteers around the world. If you'd like to volunteer your time in service to Krishna, great! Click here for volunteer opportunities. However, sometimes the need arises for dedicated persons to contribute more time on a fixed schedule to accomplish projects under deadlines. Although we're not hiring at the moment, you are welcome to submit your resumes.
Web Tech
We're looking for someone with general web skills to help with Krishna.com and the many things involved with maintaining the site content. Experience with HTML, basic graphics editing, FTP, basic web protocol required. Experience with Drupal recommended. Audio/video editing skills and mobile web/aps development a bonus. This is a part-time paid position, with pay based on your skills. We would prefer that you live in the area so you can physically come into our office in Alachua, Florida, for meetings, and to process workloads efficiently.
Send us your resume via our contact form. You can also send a physical copy of your resume to:
Krishna.com
Attn: Hiring Manager
P.O. Box 430
Alachua, FL 32616
U.S.A.