Sri Chaitanya's Life and Mission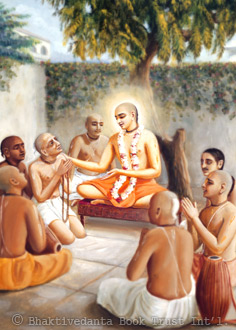 Sri Chaitanya Mahaprabhu (A.D. 1486-1534), also known as Lord Chaitanya, appeared in West Bengal, India, and showed us how to awaken our love for Krishna while living in this world.
He spent His first twenty-four years spreading the teachings of the Srimad-Bhagavatam and promoting the spiritual practice of chanting Krishna's holy names. Extremely influential, He won the hearts and minds of the greatest scholars of His day.
Sri Chaitanya's last twenty-four years, spent in the holy city of Jagannatha Puri, were devoted to tasting the ecstasy of pure love for Krishna.