Why is Kirtan so Important, and how can I do it?
from the Perfection of Yoga
by His Divine Grace A.C. Bhaktivedanta Swami Prabhupada
In India there are sacred places where yogis go to meditate in solitude, as prescribed in Bhagavad-gita.
Traditionally, yoga cannot be executed in a public place, but insofar as kirtan—mantra-yoga, or the yoga of chanting the Hare Krishna mantra: Hare Krishna, Hare Krishna, Krishna Krishna, Hare Hare/ Hare Rama, Hare Rama, Rama Rama, Hare Hare—is concerned, the more people present, the better.
When Lord Chaitanya Mahaprabhu was performing kirtan in India some five hundred years ago, He organized in each group sixteen people to lead the chanting, and thousands of people chanted with them.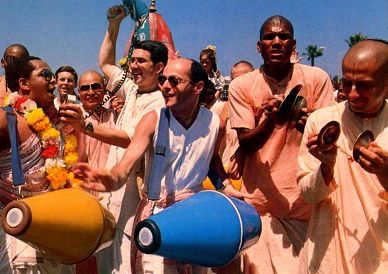 This participation in kirtan, in the public chanting of the names and glories of God, is very possible and is actually easy in this age; but as far as the meditational process of yoga is concerned, that is very difficult.
It is specifically stated in Bhagavad-gita that to perform meditational yoga one should go to a secluded and holy place. In other words, it is necessary to leave home. In this age of overpopulation it is not always possible to find a secluded place, but this is not necessary in bhakti-yoga.
In the bhakti-yoga system there are nine different processes: hearing, chanting, remembering, serving, worshiping the Deity in the temple, praying, carrying out orders, serving Krishna as a friend and sacrificing for Him.
Out of these, sravanam kirtanam, hearing and chanting, are considered the most important.
At a public kirtan one person can chant Hare Krishna, Hare Krishna, Krishna Krishna, Hare Hare/ Hare Rama, Hare Rama, Rama Rama, Hare Hare, while a group listens, and at the end of the mantra, the group can respond, and in this way there is a reciprocation of hearing and chanting.
This can easily be performed in one's own home, with a small group of friends or with many people in a large public place.
One may attempt to practice meditational yoga in a large city or in a society, but one must understand that this is one's own concoction and is not the method recommended in Bhagavad-gita.
-an excerpt from The Perfection of Yoga, an edited series of lectures on the sixth chapter of Bhagavad-gita As It Is.